Darrelle Revis
Darrelle Revis best known as "Revis Island" is said to be preparing to go to jail! Yikes!
The Pennsylvania native is one of three children born to Diana and Darryl Revis. Darrelle has a sister, DeAudra, and a brother, Terry.
Darrelle attended Pittsburgh University, where he was a Freshman All-American, two-time All-Big East selection, and Jim Thorpe Award semifinalist.
Considered one of the top three cornerbacks available Revis ditched his senior year and entered the 2007 NFL draft, getting drafted in the first round (14th overall) by the New York Jets. He played with the team from 2007 to 2012.
During his time with the New York Jets, Revis arose as one of the league's top shutdown corners. He spent the following season with the Tampa Bay Buccaneers before signing with the New England Patriots in 2014 and helping the team capture Super Bowl XLIX in 2015.
In March 2015, he went back to New York Jets, signing a five-year, $70 million contract.
Revis who was born Darrelle Shavar Revis on July 14, 1985 –is the proud father of two children. He seems like a devoted father, often posting images of their kids, daughter Deyani and son, Jayden.
At 31, he is yet to be married however, he has been linked to a number of women. It is not yet clear if he is in a committed relationship or not, you never know with professional athletes.
Fame and fortune usually brings all kinds of things and all kids of people. Among the lucky gals who've gotten closer to the star athlete we have, most recently Fabolous' baby mama Emily Bustamante of "Love & Hip Hop."
The two were snapped spending time together in 2015.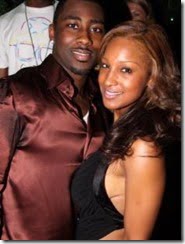 Revis also dated R&B Songstress Olivia. The G-Unit singer and Revis had a thing in 2011.
Revis who is also known to party hard, has been pictured with countless women over the years. Check out more of his pictures below.