Veronika Koprivova
Meet Veronika Koprivova; this stunning girl is the current girlfriend of professional ice hockey player Jaromir Jagr. The veteran Czech NHL player who is currently a right winger for the Florida Panthers in his 40's; therefore we wonder if Jaromir is ready to settle down with Veronika? What do you think? Would you like to know what we have to say about this stunning NHL Wag? Read her story below.
But before getting to Ms. Koprivova, let's take a look back into the many women that Jagr has dated over the years.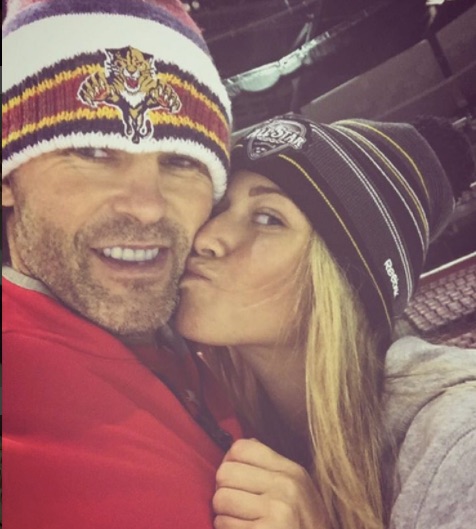 Jaromir Jagr born in Kladno, Czechoslovakia was drafted by the Pittsburgh Penguins during the 1990 NHL Draft, after playing 806 games with the Penguins, Jagr signed with the Washington Capitals in 2001.
In 2004 The Capitals traded him to the New York Rangers for Anson Carter, and after becoming a free agent in 2008, he joined the Avangard Omsk for a two-year- contract worth $5M a year. By July 2011, Jagr returned to the U.S  and signed a one-year, $3.3 million contract with the Philadelphia Flyers.
Last July, Jaromir signed a one-year deal; worth $4.5 million with the Dallas Stars who subsequently traded him in April to the Boston Bruins.
Boston released him in June, by July 22, Jagr signed a one-year deal with the Devils of Jersey.
Over his successful career, we noticed that Jaromir Jagr had dated many beautiful women, and yet neither of these ladies had driven him to the altar. So we are 100% sure there is no wife in Jagr's life but what about a girlfriend?
Jagr has dated many women like Lucie Borhyova,
Nikol Lenertova and certainly to the former beauty queen Andrea Veresova,
but by far the only girl who sticks around for a while was pretty Inna Puhajkova, the same girl he was dating when the Kiss Cam obliged him to kiss tennis player Petra Kvitova, no harm done Inna was there and wasn't jealous at all, she got her kiss afterward.
Let us tell you a few thingies about Jagr's former flame Inna Puhajkova.
Inna Puhajkova was born on March 2nd, 1986 in Russia to Volhynian Czechs parents. She graduated in 2006 from the Secondary Police School of the Interior Ministry in Prague, She moved to the U.S and then to Russia.
Inna was the 2004 Miss Russia contestant and worked as a sports reporter for TV Nova in 2012, this year she became Poledni Sports News' hottest sports reporter, she is currently studying Marketing Communications at the University of Finance and Administration.
Inna and Jaromir began to date in 2006, they split up last year, and she is now dating Jiri Tlusty, the 25-year-old Czech Ice hockey player with the Carolina Hurricanes.
Years ago around 1996  Jagr dated beautiful Iva Kubeltova they split up in 1999, reunited in 2013 but just for a friendly interview.
Finally came Veronica
Last year it was revealed that Jagr was dating stunning Czech model, Veronika Kopřivová. Veronika was born on March 22, 1991, in Teplice, Czech Republic. Veronica lived most of her childhood and adolescence in Teplice, but as soon as modeling came knocking on her door, she knew it was time to spread her wings.
In 2011, she was one of the finalists in the Czech Miss Beauty Pageant; she worked as a beauty stylist as well as a pole dancer.