Elisabeth Robinson
Have you met Elisabeth Robinson? She is the beautiful mother of NBA player Duncan Robinson, the 6'7″ shooting guard for the Miami Heat. Before joining Erik Spolestra's team, Duncan played for the NBA G League team, the Sioux Falls Skyforce. He also played college basketball at Williams College before transferring to the University of Michigan.
Duncan Robinson Height, Weight & Age
Duncan Robinson is 27 years old; he was born in 1997. Robinson's height is 6'7, and he weighs 215 pounds.
Height 6'7 (2.02 m)
Weight 215 lb (98 kg)
DOB April 22, 1994
Hometown York, Maine
Parents Jeffrey & Elisabeth Robinson
Siblings Marta and Eli Robinson
Girlfriend Caroline Nava
Duncan Robinson Michigan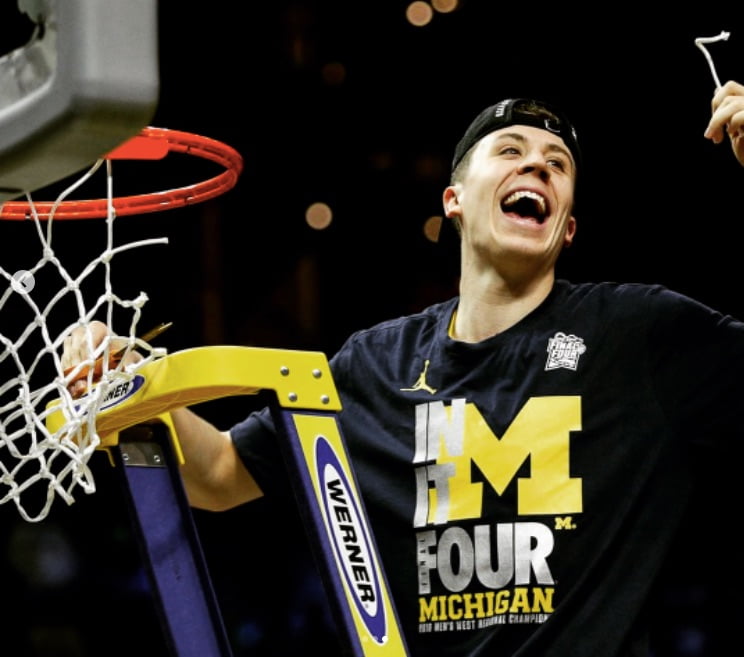 Williams College
Before transferring to the University of Michigan on August 6, 2014, Duncan Robinson attended Williams College, averaging 17.1 points and 6.5 rebounds per game.
University of Michigan
Duncan didn't play his sophomore year at the University of Michigan. He averaged 11.2 points, 3.5 rebounds per game, and recorded 8 blocks, 23 steals, and 65 assists in 36 games (27 starts) his junior year.
Robinson averaged 7.7 points, 1.7 rebounds per game the following season, and recorded 15 steals, 9 blocks, and 33 assists in 38 games (3 starts).  In his last year at Michigan, Duncan averaged 9.2 points and 2.4 rebounds per game; he also recorded 27 steals, 16 blocks, and 44 assists in 41 games (19 starts).
Duncan Robinson Miami Heat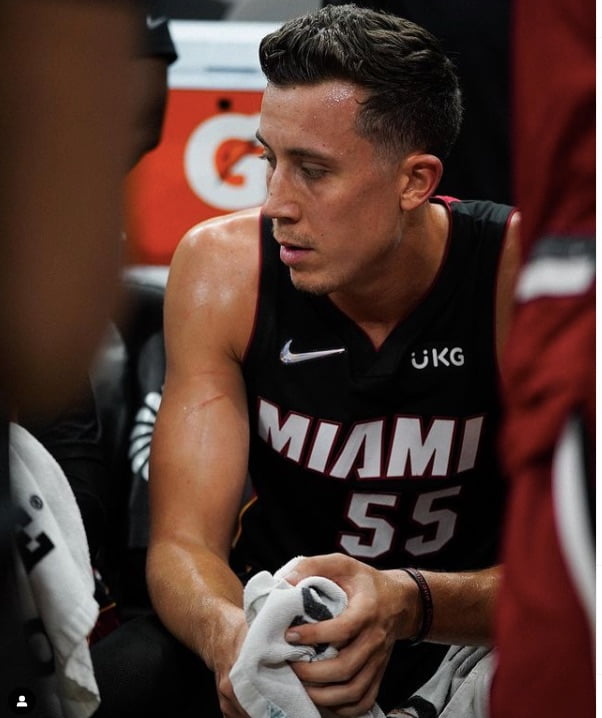 Robinson wasn't drafted during the 2018 NBA draft, however, the Miami Heat invited him to the NBA Summer League; subsequently, on July 10, 2018, the Heat and the Sioux Falls Skyforce presented a two-way contract on July 10, 2018.
Duncan debuted with the Miami Heat during the preseason against the San Antonio Spurs on September 30, 2018. His debut during the regular season came on October 24, 2018, in a 110-87 win against the New York Knicks; he recorded three points and four rebounds in 10 minutes. He was a 2019 All-NBA G League Third Team selection. He finished the season averaging 3.3 points and 1.3 rebounds in 15 games.
On December 13, 2019, the Wall Street Journal named Duncan the most improbable player in the NBA and one of the world's best shooters. During the 2019-2020 season, Duncan Robinson averaged 13.5 points and 3.2 rebounds in 73 games (68 starts).
Robinson recorded his 500th career three-pointer on May 1, 2021. He averaged 13.1 points, 3.5 rebounds in  72 games all starts. He averaged 10.9 points and 2.6 rebounds per game in  79 games (68 starts).
Duncan Robinson Net Worth
As of April 2022, Duncan Robinson's net worth has been estimated at $20 million. in addition to his salary from his contract with the Miami Heat, Robinson earns a couple of million from his endorsement deals with Orgain, Rapid Reboot, Qatar Airways, CoinCloud, A-Sha Foods, and Outshine Frozen Snacks.
Duncan Robinson Contract
Duncan Robinson's current five-year contract with the Miami Heat is worth $90 million. The deal included $80,000,000 guaranteed.
On July 10, 2018, Duncan Robinson agreed to a three-year, $3 million contract, including $259,474 guaranteed.
Duncan Robinson Salary
Duncan Robinson's salary with the Miami Heat is $18 million. Before that, he earned $1,030,062.
Duncan Robinson Mother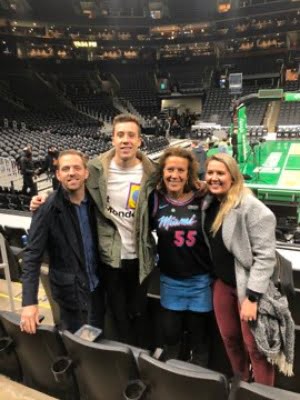 Elisabeth Robinson
Duncan Robinson as you all know, is one of the children born to Mr. Jeffrey Robinson and the lovely Elisabeth Robinson from New Castle, New Hampshire. She also received her Herbiologist certification in 1999.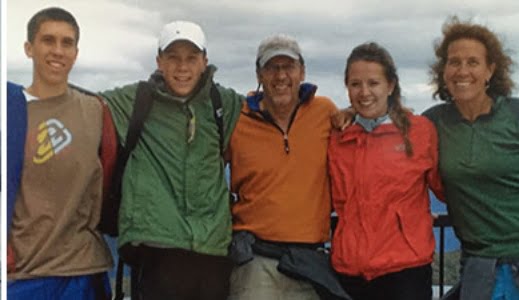 Mrs. Robinson was born Elisabeth Kinney on December 3, 1958. She holds a BA in English and a nursing degree from the University of New Hampshire.
She worked for over a decade at Frisbie Memorial Hospital in Labor and Delivery and Pediatrics. Nowadays. Mrs. Robinsin is a Board Certified Family Nurse Practitioner, Metagenics certified First Line Therapy healthcare practitioner, and founder of  Seacoast Waldorf Association,  healthcareGIVES and Pear Tree Herbals.
In addition to Duncan, Elisabeth, and Jeffrey Robinson are parents to Marta and Eli.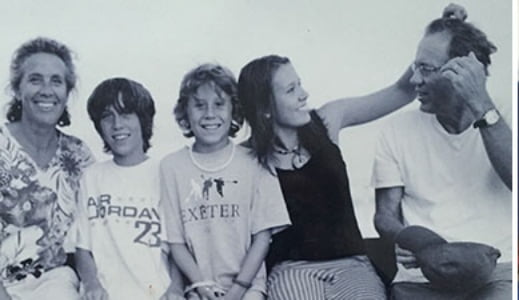 Duncan Robinson Sister
Marta Robinson
34-year-old Marta McBryde Robinson, the eldest child of Elisabeth and Jeffrey Robinson, attended Phillips Exeter Academy before attending Santa Clara University, where she played water polo and graduated in 2011 with a B.S. in sociology; Marta also holds a Master's in mental health and behavioral medicine from Boston University School of Medicine.
Marta Robinson has been a psychotherapist at Counseling Services of Greater Boston since October 2020. Before that, she worked at Mass General Brigham and Riverside Community Care and North Shore Medical Center.
Duncan Robinson Girlfriend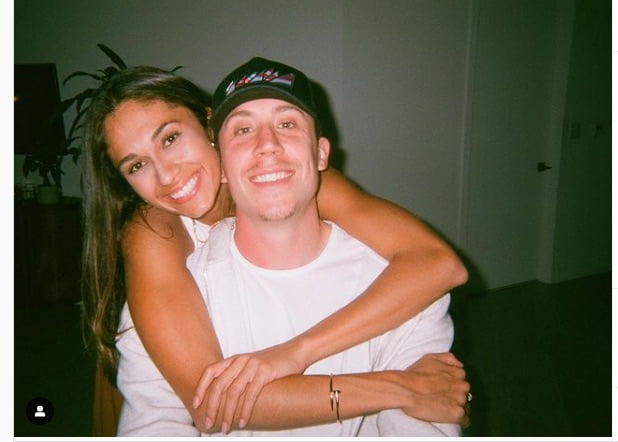 Duncan Robinson's longtime girlfriend is Fort Lauderdale native Caroline Nava, born on April 7, 1997, to Kim and Robert Nava.  Caroline attended Westminster Academy High School before enrolling at Florida State University, where she was a member of the Seminoles Swimming team and graduated in 2019 with a Bachelor of Science in Professional Sales and Business Management.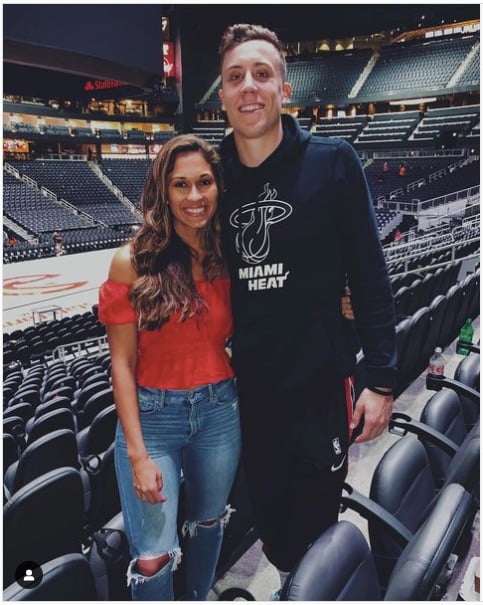 Caroline Nava is an account manager at Signature Consultants; before that, she was a professional clothier for the Tom James Company and worked in sales at Vector Marketing in Fort Lauderdale, Florida.