Mary Jackson
Mary Jackson is the loving and caring mother of NFL player Edwin Jackson, the 26-year-old linebacker for the Indianapolis Colts known as Pound Cake who sadly died on February 4, 2018. when he and Jeffrey Monroe, 54, were struck by a drunk driver on Interstate 70, in Indianapolis.
Mrs. Jackson is the proud momma of 5 children; Stephen, Adam, Henry, Edwin and Michelle. Her son Edwin was born on December 19, 1991, in Atlanta, Georgia where he attended Westlake High School. After high school, Edwin attended Georgia Southern University; he graduated in 2014 with a major in international trade.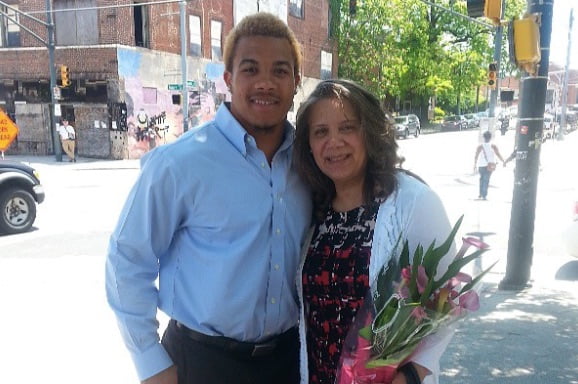 On May 5, 2015, the Arizona Cardinals signed him in as an undrafted free agent; Arizona released him on August 31 that same year. Edwin who got his nickname due to his mom's delicious pound cake, signed with the Colts on December 8, 2015.
Pound Cake the nickname friends and teammates called Edwin,  was born one day after he missed his flight from Atlanta to Arizona.
Here is that story.
He was supposed to take a weekend flight to Phoenix from Hartsfield-Jackson Atlanta Airport, notorious for being one of the busiest in the country. After missing his flight by just a few minutes because the inter-terminal tram took too long, Jackson did the only thing he could think of.
He called his mom, she told him to call the Cardinals coaches. He did and the team booked him a new flight later in the day.
"I can't go empty-handed," he said was one of his first thoughts. "It's disrespectful to show up late and not have anything."
So, Jackson's mother made a fresh batch of her now-famous pound cake from scratch and brought it to the airport.
When Jackson got to Arizona and began meeting the coaching staff, they gave him a hard time about being late — one coach even told Jackson he owed the coach $50.
"I'm like, 'Oh, man,' (and I) started to get sweaty," he said. "And then I thought, 'I got these pound cakes."
Coach by coach, Jackson started handing out the individually-wrapped desserts.
And coach by coach, they started forgetting about his tardiness. He met with general manager Steve Keim, defensive coordinator James Bettcher, linebackers coach Larry Foote and special teams coordinator Amos Jones. They all got a piece of cake.
To Edwin's amazing mom, Mary Ellen Powell Jackson, may God give you and your beloved family the strength you need throughout this sad time; our thoughts and prayers are with you all.