Elisabetta Muscarello
Meet Elisabetta Muscarello;  the lovely wife of former soccer player turned coach, Antonio Conte. Her husband is currently the manager of Chelsea FC.
The Lecce-born manager is renowned for his meticulous planning and detailed analysis of games.
The former midfielder enjoyed a distinguished career as a player and manager. Antonio Conte joined the Italian National Team on 19 August 2014. Prior to that, he served as player and manager of Juventus for 16 trophy-laden years; with 13 of those coming as a player.
In over a decades service to the Old Lady Conte picked up five Serie A titles and five European Cups, including one Champions League trophy.
Despite measuring a mere 5 foot 8 inches, the midfielder became renowned for his combative style of play. His first gig as a manager resulted in disappointment when he took the job as manager of Serie B side Arezzo. Conte was sacked just three months later after a series of poor results.
However, a more seasoned Conte took over as head coach of Juventus with the Italian giants still reeling from the match-fixing scandal that had seen the club stripped of their Scudetto titles.
His impact was immediate as he led the club to a first Serie A title in eight years, finishing his first season unbeaten in the league. In 2012 he emulated the great Marcelo Lippi when he became the first Juventus coach to lead the Old Lady to a Coppa Italia triumph since 2004.
He resigned as manager in 2015 after a clash with the Juventus hierarchy over transfer policy, a feud Italian Federation President Carlo Tavecchio confirmed in an interview.
Earlier in 2016, Elisabetta's hubby signed a three-year contract to take charge of English club Chelsea after UEFA Euro 2016.
Mrs. Conte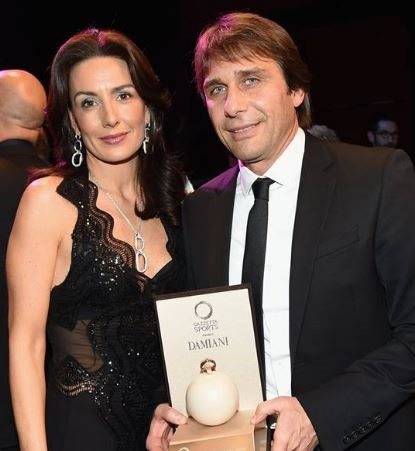 Today, the couple celebrate their wedding anniversary, and Antonio being the romantic Italian man that he is, posted an adorable message for his wife of three years on social media, saying:
" dear betta,
Today is the anniversary of our marriage. It's already been three years. Even if we can't celebrate together in victory, you renew my love. Thank you for the support that you give me every day and for being by my side in all the work and personal challenges that I'm dealing with.
A kiss, Antonio "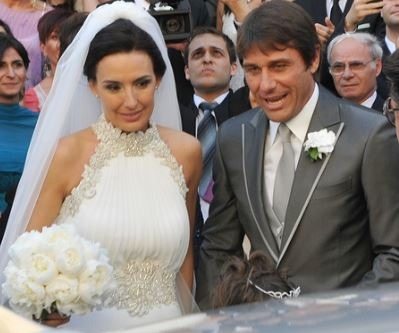 It might only be the couple's third wedding anniversary but their story goes way back. Elisabetta Muscarello and Conte were together for over a decade before tying the knot in 2013. Together they are the parents of one daughter, Vittoria. Conte has expressed his gratitude to the lovely Elisabetta Muscarello in the past, saying about her:
"I have a great woman by my side, one who always tries to understand me."