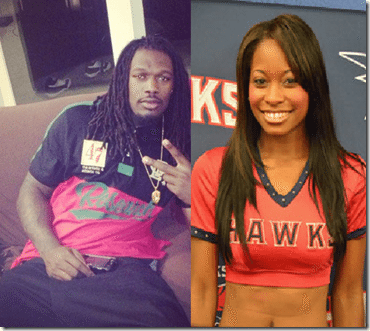 Highly popular and certainly with a promising lucrative future ahead 20-year-old Jadeveon Clowney must satisfy people's curiosity about who he's dating, its only natural when you reach superstardom by delivering a blow on Michigan running back Vincent Smith during the Outback Bowl back in Jan!
So who is the lucky lady? Well she is non other than one of duo member already, Kirsten Hardy; yes she is part of the item known as The Hardy Twins! They even have a twitter account with the tittle. Kirsten along with her twin sister Kristen are both 2nd year Veteran NBA Dancers for the Atlanta Hawks or at least they used to be. Jadeveon's girl might be a little older than him but she is hot!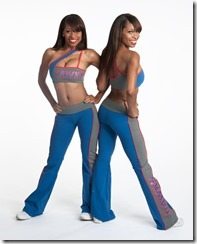 According to media reports the two met through mutual friends at the end of last year and have been dating ever since. Kirsten as well as sis attended U. Houston, Sterling High School and graduated from the University of Houston majoring in early childhood. She is a teacher by profession, she worked as a pre-Kindergarten teacher full time but when asked why do you want to be a Hawk's Cheerleader she said:
"I've always been a fan of the Hawks Cheerleaders for what they do on and off the court. Dance is my passion and to dance with an amazing group of girls and cheer on the crowd is my dream"
Earlier this year in March her twin sister Kirsten suffered a freaky accident and was rushed to the hospital after an accident during an energetic high kick routine caused her to hit her head on the court; during the bizarre accident her teammates including her sister Kristen rushed to her side and paramedics took her off the court on a stretcher; but no worries Kristen's twin made a fine recovery and thanked everyone for the support.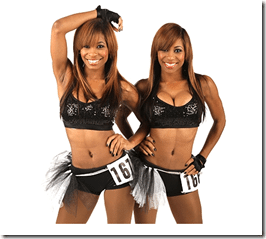 Now both have moved on to being part of the 2013-2014 lady cats, the girls changed teams and are currently on North Carolina's Charlotte Bobcats cheer team auditions and are finalist to make the dancers team. According to her sister's Facebook they are currently living in Atlanta, Georgia but that might be changing soon at least she'll be closer to her man in Columbia. It seems like this girls really do everything together.
Prior to her work for the Houston Hawks they worked for the AHL Houston Aeros Aerodynamics. Clowney's girl says when she is on the court she has a lucky pair of socks she wears to every game and has an alter ego when she dances called Kristina.
You can find both sisters on twitter here.