Leslie Forman
Leslie Forman is the longtime wife of basketball exec, Gar Forman -best known as the General manager for the Chicago Bulls.
Leslie's husband has been fires form the his top job by newest Bulls addition, Arturas Karnisovas.
Forman, who had served as the team's general manager since 2009, spent a total of 22 years with the organization; first as a scout and then as an executive.
Gar received his B.A. degree in Marketing and Education in 1982 from Utah State. Prior to the Bulls, he was an assistant coach/recruiting coordinator at Iowa State. He later held similar positions at New Mexico State, Cal Poly Pomona, College of the Desert and his alma mater, Utah State University.
He joined the Bulls as a scout in 1998. He then held the position of Special Assistant to Executive Vice-President of Basketball Operations from 2002-2004.
Prior to being named general manager, he served as Director of Player Personnel, position he held since 2004.
Forman is credited with leading the Bulls to the playoffs in seven of his 10 years as General Manager. He received NBA Executive of the Year honors in 2011.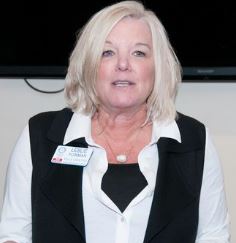 The lovely Mrs. Forman whose life has been intertwined with the sport world, is also a member of the Rotary Club of Buffalo Grove. Last year, Leslie Forman was in charge of putting together the club's Christmas event.
She and her husband have been married for several years and together are the proud parents of two children. Leslie Forman is the mother of two sons, Braeden and Jaxsen.
Though not many more details are known about the spouse and mother, she has been pictured a number of times attending important events next to her husband. It's safe to say she is one supportive wife.
Leslie Forman and her family are residents of Buffalo Grove, Ill.