Meet Gina Schumacher
Gina Schumacher, has a famous nickname, as you might have guessed it, she is related to Seven-time Formula One driver Michael Schumacher, in fact she is his only daughter.
Being the daughter of the legendary German driver Could put you in the spotlight instantly, but the gorgeous blonde is holding her name on her own.
Gina Schumacher was born on February 20 Gina Maria, 1997; About two years after her parents tied the knot. She is Corinna and Michael's first child. She has one brother, Mick Schumacher -who was born March 22, 1999. Their famous father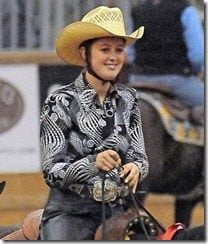 Pin
Gina -who is a horse rider -has been Widely covered by media, Describing her as having inherited her father's sporting prowess and winning genes but her interest and love for horses definitely comes from her lovely mother -who is an equestrian and animal activist.
RELATED STORIES: CORINNE SCHUMACHER
Earlier this year, competed in the NRHA European Futurity Horse Show in the German town of Kreuth where she rode on the saddle of a number of different horses during the competition.
More recently, Gina attended the FEI European Championships in Germany, only this time her mother was there to show support, the Daily Mail reports.
Last month, the teenager Claimed victory at the FEI European Reining Championships for Juniors and Young Riders 2015 contest, Which Attracted 46 riders from nine different countries. It was hers second gold medal, According To Hello Mag.
Gina has quietly close ties to Formula 1, her younger brother Mick -who has the passion for the motorsport and through her uncle Ralf Schumacher -who left his mark in the racing world and so is married to Gina's aunt, Cora Brinkmann.
RELATED STORIES: CORA SCHUMACHER
Her younger brother finished runner-up in the KF Junior Karting World and European Championship last year. Though He Was involved in crash sport Earlier this year, the young Schumacher has been very impressive in his father's reports say.