Meet Cora Schumacher also known as Cora-Caroline Brinkmann, she is Michael Schumacher's sister in-law, wife of his younger brother Ralf Schumacher, who like his big brother left his mark in the minds and hearts of all Formula One fans.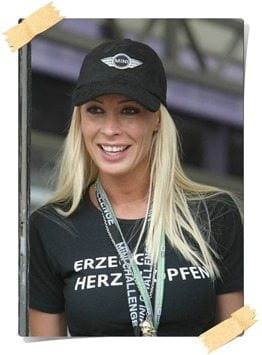 Ralf Schumacher's wife Cora Schumacher, 37, was born Cora-Caroline Brinkmann on December 26, 1976 in Lagenfeld, North Rhine Westphalia, Germany. Her father owned a gas station.
Cora Brinkmann Schumacher gained notoriety for booth modeling and acting, in 2006 she appeared in the German t.v series Wetten, dass and made a cameo in two episodes of Die Johannes B. Kerner Show in 2007 and TV Total in 2010.
Cora Schumacher has been in the cover of various fashion magazines like Maxim (September, 2005), GQ in October, 2003,, among others. In May, 2001, several naked photos of Cora Schumacher were published, the photos were part of  photographer Jens Brüggemann's photography book "Passion".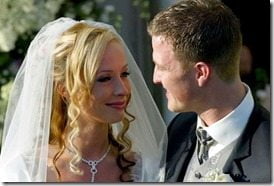 Cora and Ralf Scumacher got married on October 5th, 200, in a civil ceremony, in the religious ceremony took place on September 7th, 2002. She gave birth to the couple's David on October 23rd, 2001.
In March, 2008 Cora Schumacher accused her cleaning lady Miss Grollmann, 50, of stealing bananas from her home.
"She went into my private cosmetics collection, she sniffed around in my cabinets, rooted around in the mail," said Mrs Schumacher said.
"We were spied upon. We felt we were under never ending supervision. The situation was intolerable."

"I felt like we were in Big Brother. Our employees are paid well above average and I have no desire to explain or discuss things 37 times over. Hence the notes."
Cora's cleaning lady denied the accusations..
"I never touched them," she said. "I don't eat bananas! Mrs Schumacher has no right to insult me. I have never done anything wrong! I have always behaved correctly.

"I was employed by the celebrity family until 2007 when I became embroiled in a controversy over unpaid wages which was settled out of court.

"She has no right to insult me. I never behaved in an unprofessional manner, but always correctly.  I don't know why she is making these allegations which come out of thin air.

"I don't want anything more to do with this peculiar family. It was bad enough when I worked for them."
In September, 2011, it was reported that Cora and Ralf had decided to divorced, some sources close to the couple said they had been  having trouble for a while, but decided to remained together for their son's sake, but things changed after the bild published photos of Cora kissing another man on the balcony of a German  hotel, the man was later identified as 28-year-old rapper Marteria, whose real name is Marten Laciny.
Although reports suggested Cora and Ralf were heading to a divorce, the couple are still married and living together.