Meet Megan Lingmerth
Megan Lingmerth is the wife of 28-year-old Swedish pro golf player David Lingmerth. Megan must be cheering for her hubby who is currently playing at the PGA Championship in Whistling Straits.
David played college golf at the University of Arkansas for three years and on the Web.com Tour during the 2011 season. He continued on the Web.com Tour in 2012 and won his first event at the Neediest Kids Championship. Lingmerth ended the season ranked 10th of the money list, which earned him his PGA Tour card for the 2013 season. He turned pro in 2010.
Earlier this year David earned his first PGA Tour win at the 2015 Memorial Tournament, he received a $1.12 million prize –more than a quarter of his career earnings.
According to ESPN, he won on their wedding anniversary and his father's birthday!
Megan met her now hubby when they were both attending the University of Arkansas. After dating for a few years the couple decided to take their relationship to the next level by tying the knot in 2013 at Casa Marina in Jacksonville Beach, Florida –where they currently reside.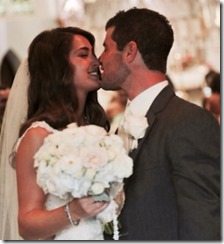 According to her LinkedIn, Megan attended University of Arkansas at Fayetteville from 2008-2012 for a Bachelor of Science Education, Childhood Education. She attended Helias High School.
Her resume includes jobs such as a cashier at Saffees and a pro shop attendant at Blessing's Golf Club.
Other random facts about Megan's golfer hubby we can tell you si that he can actually play the drums, the Arkansas Razorbacks are his favorite college team and the Washington Capitals are his favorite pro team, his two younger brothers play hockey and one sister plays soccer, his uncle Goran Lingmerth, was a kicker for the Cleveland Browns in 1987.
You can find Megan on Twitter here.