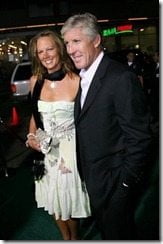 Glena Goranson is Pete Carroll's wife and the biggest fan of Seattle Seahawks ;)
Carroll's wife Glena would help babysit Monte's two-year-old son Lane Kiffin, who would then become Carroll's offensive coordinator at USC and then head coach of the Oakland Raiders and Tennessee Volunteers, and the head coach of USC.
Glena Carroll Goranson graduated from Pacific University where she was a volleyball player. It was also at Pacific U where Glena met her soon to be husband Pete Carroll. The duo were then married and now they have three kids; sons Brennan, 31, and Nate, 23, and daughter Jamie, 28. Through Brennan and his wife Amber, he has one grandchild, Dillon Brennan Carroll.
Have you noticed that Glena likes wearing monochromatic tones on her dressing? Linen fabrics and leather on shoes…classy lady. She doesn't wear make up only if there is a cocktail or party. On a sports day, she would rather wear all white and loves bags made out of natural components. Despite her age, she looks fabulous in night gowns!
Pete Carroll charges into his fourth season as head coach of the Seattle Seahawks following a very good third year and saw the Seahawks go 11-5 in the regular season, win a playoff game at Washington and earn Carroll "NFC Coach of the Year" honors from the NFL 101 Awards. Named head coach on January 11, 2010, Pete Carroll became the eighth head coach in Seahawks history after one of the most successful runs in college football history during his nine years at USC. He has 19 years of NFL experience and 19 years of collegiate experience.
Wow! with this resume and list of achievements, we don't doubt Glena must be so proud of her husband!
There is more to see here.