Rachel Snider Owens
There is a new NFL WAG in town y'all!! say hello to the beautiful Rachel Snider, the girlfriend and soon-to-be wife of The NFL wide receiver Terrell Owens. Want to know more about this gorgeous lady?
40-year-old Terrell Owens finally put a ring on her lady and is not that they had been dating for long, but it was about time the man finally decided to settle down and have children inside the marriage for a change! remember Owens has fathered 4 beautiful children with four different women.
What about his soon-be wife Rachel Snider? how did they meet? how long have they been dating? and most importantly when it the big day?
Well, it was the great guys at TMZ who got their claws on the marriage license that shows Terrell Owens and his girlfriend Rachel Snider is planning to get married on April 8th, after that the license is no longer good. When and how they met is a mystery., although back in September she referred to Terrell as her good friend Terrell.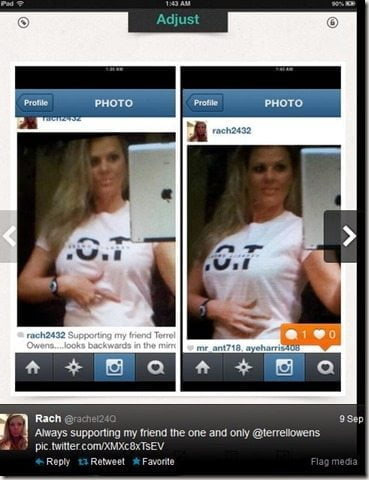 This same pic she sends him first in April, Rachel tweeted pics of Terrell in March too.
And about Rachel Snider, we can tell you just very few sadly,  she a 33-year-old postal worker from Texas. Ms. Snider had her eyes on what kind of engagement ring she wanted, and she got it on December 31st!!
She sure is excited about the home she will be living and has sort of pick up the destination for the honeymoon I guess!!
On Christmas' Eve and again on New Year's she tweeted L.A attorney Mark Geragos who she calls DAD!!! FYI Mr. Geragos is Chris Brown's lawyer, he also represented Wynona Ryder when she was busted shoplifting in 2001.
She also tweeted Attorney Gerago when she bought his book Mistrial: An Inside Look at how the Criminal Justice works.. and Sometimes doesn't., then again she tweeted a pic of her holding the book, and Rachel even took the time to post a review of the book on Amazon.
She should be named Terrell's biggest fan, she had the Terrell Owens App on her Pad, I didn't even know there was one.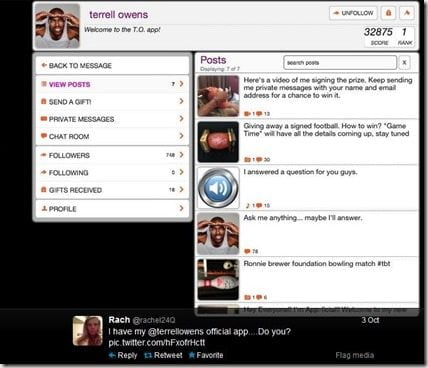 Rachel Snider from Beaumont, Texas, as we previously mentioned is a carried at U.S Postal Service in Beaumont, she graduated from Lamar University.
Rachel became Rachel Snider Owens at a courthouse in Newhall, California on Jan. 23 when they got married, however, TMZ reported she wanted to divorce after two weeks, the reason? He was using her for money.
"I felt in love … and now I feel betrayed and heartbroken," Snider says. I really valued his love and friendship for 5 years. Out of the love in my heart, I tried to help him. We had a secret relationship for 5 years and I married him for love."
Snider moved back to Texas and on February 13, TMZ once again reported she was hospitalized this weekend after an apparent suicide attempt.
There is no divorce just yet, but they not together either; Terrell was on Celebrity Wife  Swap with Revenge of The Nerds' actor Robert Carradine, Rachel was a nowhere, but she is still a part of Terrell's life, an estranged part we must add. She embraces it somehow..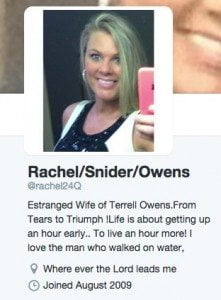 And look at that, back when she was enjoying her newfound wag status, she used our photo of her on Twitter, although the photo is not there, she remembered her former status from the new reality show WAGS. E! television recently released a t.v series about the lifestyles of the athletes' Wives and girlfriend "WAGS"  where our blog made a cameo on Episode one! Did you see us???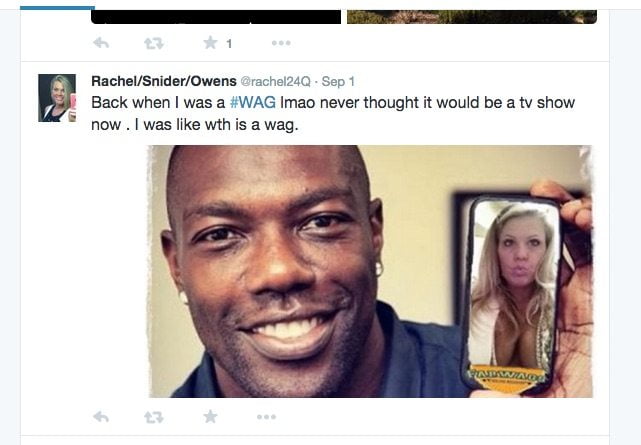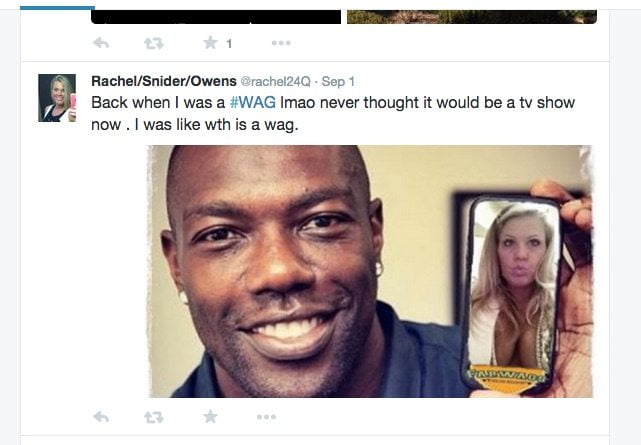 You can all follow Terrell Owens' GF  Rachel Snider on Twitter
here.