36-year-old Heather Mitts Feeley doesn't' need much of an introduction. She has won a number of awards as a soccer player for the Philadelphia Charge, Boston Breakers, Philadelphia Independence and Atlanta Beat.
The wife of former NFL quarterback A.J Feeley is a three-time Olympic gold medalist, and was a member of the U.S. women's national team. She played in four matches in the 2011 FIFA Women's World Cup, where the U.S. national team finished second, according to Wikipedia.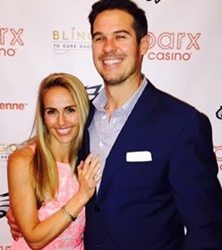 According to her social media accounts, on March 11, 2009 she became the 25th female player in U.S. history to earn 100 caps.
The blonde, you-could-say, was born with the sports gene; her father Don, a cardiac surgeon at Christ Hospital in Cincinnati, played basketball at Kentucky under Adolph Rupp.
She graduated with a degree in advertising from the University of Florida. She worked for ESPN as a sideline reporter on college football during the 2005 seasons. Served as a studio analyst for ABC/ESPN/ESPN2 during the 2003 and 2007 FIFA Women's World Cups and was the sideline reporter for several MLS broadcasts in 2005 and 2006.

She has also done color commentary for Sunshine Network and for Fox Sports South on women's college soccer games.
Heather tied the knot in 2010 in Mexico and gave birth to the couple's first child, son Connor William Feeley on January 30, 2014.
Before having her own little family she appeared on the cover of Philadelphia Magazine in June of 2002 as one of the city's "Sexiest Singles." She was voted sexiest player in the WUSA on Playboy.com during the 2001 season and was also voted ESPN.com's "Sexiest Female Athlete" in 2004. The following year, she appeared in the SI Swimsuit Issue with then-fiancé, now-husband A.J.

Heather who is retired as of March 13, 2013; loves playing sports including golf, tennis and squash; she also enjoys traveling, food and wine. She is currently the sideline reporter for the MLS Philadelphia Union game broadcasts and on-line programming.
Recent reports indicate her hubby of five-years is speaking out 11-year-later about Tom Brady receiving broken-in footballs during a game in 2004!
You can find Heather on Twitter here.