Ileana Salas
Ileana Salas is the hot and girlfriend of Mexican footballer, Alan Pulido. Her 25-year-old striker beau has been rescued from his captors, reports say.
Ileana Salas and Pulido's family got a major scare after the Olympiacos player was abducted yesterday in his native Mexico. Pulido was kidnapped on Sunday from his home in the Mexican state of Tamaulipas, according to law enforcement officials.
Family members told authorities that six armed men took him around dawn in his home town of Ciudad Victoria in the northwest of the country. Today it was announced he is back with his loved ones and is safe and sound.
Ileana Salas was also present when her boyfriend was taken by kidnappeprs. The couple was allegedly coming from a party together. She was released from the captors, as well. According to The Sun, she was left unharmed in a parking lot.
Alan Pulido was born March 8, 1991 in Ciudad Victoria, Tamaulipas, Mexico. He has one brother, Armando Pulido. He made his professional debut in 2010 with UANL and made his international senior club debut in 2014 with Mexico.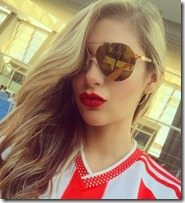 Alan Pulido appeared in six games for the Mexican National Team during his career, scoring four goals. He also has played for his country's Under 23 and Under 20 teams.
Before arriving to Olympiacos, Pulido played for Tigres in Mexico and Levadiakos in Greece. According to ESPN, he became a starter for Olympiacos during this year's season in Greece, scoring his fifth goal of the season during his first start.
According to her social media, Ileana Salas is a physiotherapist. The couple has been dating for almost half a year. She keeps very active on social media, where she also reveals is an animal lover. She is a native of Monterrey, Mexico and over 60K followers on Instagram. Salas often posts images of the couple having fun and is clear to see she is in great shape.
According to Mexican outlets, Ileana Salas is much more than a pretty face. The blonde who is also a professional model and is the mother of an adorable baby girl, is a weapons expert. According to her social media photos, when she isn't at the gym working out, she can be found at the shooting range.
Earlier this year she did a photo-shoot for the Western Style brand. She is also seen posing in several locations with her man.
You can find Ileana Salas on Instagram here.