Meet Jackie Cook
Jackie Cook is the older sister of football college player, Connor Cook. Her Quarterback brother played college football for the Michigan State Spartans and was their starting quarterback from 2013 to 2015.
According to his player overview, Connor's hard work secured him a place among the best quarterbacks in MSU history, throwing for nearly 6,000 yards, and tossing 46 touchdowns versus 14 interceptions in his sophomore and junior years — garnering second team All-Big Ten honors both seasons. In 2015, he captured the Johnny Unitas Golden Arm Award and Big Ten Quarterback of the Year Award, leading the Spartans to a spot in the College Football Playoff by throwing for 3,131 yards and 24 touchdowns (throwing seven picks). Cook completed just 56 percent of his passes as a senior, however, down from 58.7 percent and 58.1 percent the previous two years. The Ohio native also fought off a shoulder injury, missing the win over Ohio State, but returning to help his team win their second Big Ten championship in three years. Cook won the MVP award in both the 2013 and 2015 Big Ten Championship Games.
Word in the street is her brother could be picked up in this year's draft by the San Francisco 49ers.
Jackie and Connor are the children of of Chris and Donna Cook. Both Jackie and Connor followed into their parents footsteps. Their father played football at Indiana, while their mother Donna played basketball at Cincinnati.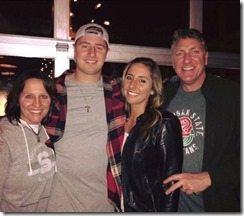 Connor hasn't been the only one to make heads turn. In fact,  Jackie Cook has been grabbing headlines since 2013. At first she was described only as Connors' sister but a report about her bikini Instagram pics, put her on the map.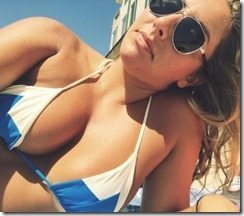 It was later revealed she played basketball. Jackie Cook played college basketball at Old Dominion. She majored in Communications. Now a days, the blonde clearly enjoys soaking under the sun in tiny bikinis, while hanging out with her friends. The retired basketball player currently resides in San Diego.
Jackie Cook was born October 25th, 1990. She grew up in Hinckley, Ohio and attended Regina High School. Prior to her time at Old Dominion, she received in 2009 WBCA Honorable Mention All-American, was a McDonald's All-American nominee and a Four-year letter winner at Regina HS, All-State player in Ohio. Her team was the only team in Ohio to go undefeated in 2009. She was also MVP of Herald All-Star Game. She received an OHSAA Scholar-Athlete Award and was All-time leading scorer as a freshman, sophomore, and junior in Medina County.
During her senior year at Old Dominion, she became the 30th player in program history to score 1,000 career points, earning also Third Team All-CAA honors in 2013.
Accoridng to her LinkedIn, she is a Territory Manager at Moen Incorporated –where she has been working since 2013.
Now Jackie seems to be a big fan of traveling, she has been all over the place; spending summers in Chicago, Ibiza, Mallorca, Rome and last year she was spotted attending Coachella.
She's also very active on social media and frequently posts on Twitter, Instagram and also documents her trips on Vimeo.
You can find hot Jackie Cook on Instagram here.