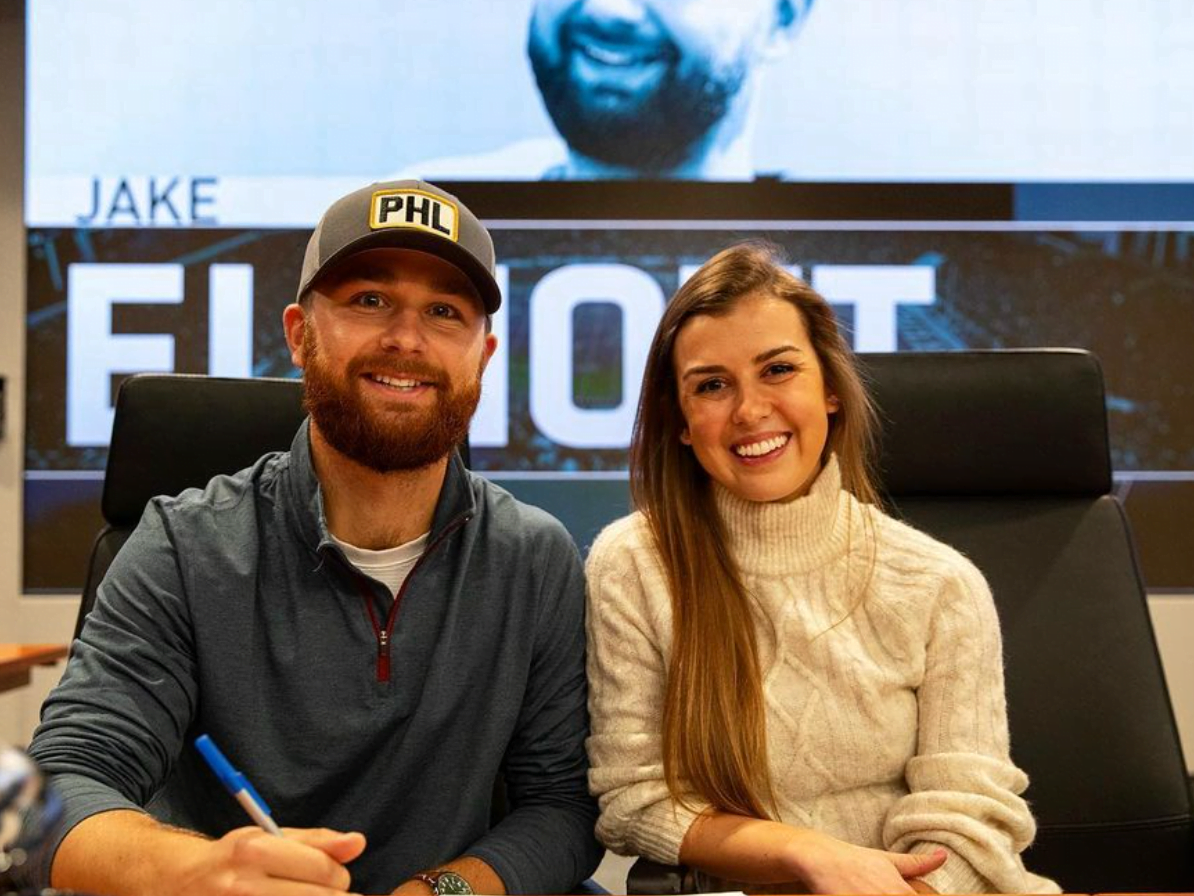 Meet Pretty Annie Elliott! The stunning wife of NFL player Jake Elliott, the remarkable place kicker playing with the Philadelphia Eagles. Elliott previously played for the Cincinnati Bengals and college football with the Memphis Tigers at the University of Memphis.
Jake Elliott Parents
5'9 Jake Daniel Elliott was born on January 21, 1995, in West Springs, Illinois. He is one of the children born to Diane Stoub Keehan (b. April 1961) and Bruce Elliott (January 1962). Jake has one sister named Karen born in 1989.
Jake Elliott College
Jake Elliott graduated from Lyons Township High School before he played college football at the University of Memphis from 2013 to 2016. During his freshman season, Elliott connected  16 of 18 field goals, scored 72 points, and 24 extra-point attempts in 12 games.
In his sophomore year, he scored 120 points, 57 extra points attempts, and connected 21 of 32 field goals in 13 games. Elliott scored 132 points, 67 extra-points attempts, and connected 28 of 23 field goals in 13 games his junior year.
During his final year with the Memphis Tigers, Jake Elliott scored 121 points, 63 extra-point attempts, and connected 26 of 21 field goals in 13 games. Jake graduated with a bachelor's degree in marketing management on May 6, 2017.
Jake Elliott  NFL
April 29, 2017: The Cincinnati Bengals selected Jake Elliott in the 5th round (153rd overall selection) in the 2017 NFL draft.

May 15, 2017: He s

igned a four-year, $2.67 million contract with the Cincinnati Bengals.

September 2, 2017: He was waived by the Bengals.
September 12, 2017: Elliott signed a deal with the Philadelphia Eagles.
September 17, 2017: He made his NFL debut against the Kansas City Chiefs.
September 25, 2017: He was named NFC Special Teams Player of the Week.
February 22, 2017: He signed a contract with the Eagles.
November 27, 2019: Elliot signed a contract extension with the Philadelphia Eagles.
Jake Elliott Contract and Salary
On November 27, 2019, Jake Elliott signed a five-year, $19.3 million contract extension with the Philadelphia Eagles. The deal included a $10.1 million guarantee and an annual salary of $3.8 million.
Jake Elliott Wife
Jake Elliott married his pretty wife, Annie Elliott, on March 8, 2020, at the Fairmount Park Horticultural Center in Philadelphia, Pennsylvania. Jake asked Annie to marry him on June 26, 2016, inside Mcclure Jr High School's basketball court, where Jake once played basketball and Annie was a cheerleading squad member.
 Annie Elliott
Annie Elliott was born Annie Timyan on January 28, 1995; she is the daughter of Nancy and Philip Timyan. Annie Elliott graduated in 2017 with a degree in apparel merchandising and a master of consumer and design sciences in 2019 from Auburn University.
Annie Elliott is a marketing coordinator a Copper Hill Real Estate in Philadelphia. Before that, she was a graduate teaching assistant at Auburn University; Mrs. Elliott also did an internship at L.K. Bennett and was a sales associate at Behind the Glass from June 2015 to March 20216.
Related Story: Kenneth Gainwell Girlfriend Jada Ballard