Jalin Hyatt Mother
Meet New York Giants rookie Jalin Hyatt' Mother, Enevelyn Hyatt. 6'0 Jalin is the rookie wide receiver currently signed by the New York Giants; he previously played college football for the Tennessee Volunteers at the University of Tennessee under head coach Josh Heupel.
Jalin Hyatt Dutch Fork High School
Hyatt is an alumnus of Dutch Fork High School in Irmo, where he left a significant mark by setting school records for career receiving yards (3,624) and touchdown receptions (57). He played a crucial role in leading Dutch Fork to undefeated seasons and state championships in 2018 and 2019. His stellar performance in the 2019 championship game included catching three touchdowns, one of which clinched the game in overtime. After his final high school season, he was shortlisted for the South Carolina's Mr. Football Award. According to 247Sports, he was a four-star wide receiver prospect upon concluding his high school career.
Despite these achievements, local programs Clemson and South Carolina did not recruit him due to concerns about his light weight of just 153 pounds. Even South Carolina's head coach advised him to bulk up, saying, "Man, you're fast, but you need to eat more peanut butter."
Initially, Hyatt committed to play college football at Virginia Tech in February 2019. However, he reconsidered his decision and reopened his recruitment later that year in June.
Jalin Hyatt College Career
On July 27, 2019, he decided to commit to the University of Tennessee. Jalin Hyatt made his first college reception on October 3, 2020, during a game against Missouri that ended in a 35-12 win. Later that same month, he achieved his initial college touchdown with a 38-yard pass from Jarrett Guarantano in a match against Alabama, despite a 48-17 loss.
This touchdown was part of Hyatt's season-high 86 receiving yards. He scored another touchdown later that year against Vanderbilt. His freshman season concluded with 20 receptions for 276 yards and two touchdowns.
In his sophomore year, despite being anticipated as a rising star for Tennessee, Hyatt faced challenges due to injuries and limited playtime. He started only one game and finished the season with 21 receptions for 226 yards and two touchdowns.
Hyatt's junior year saw him once again tipped for a breakout season. Head coach Josh Heupel cited his strength and confidence as potential success factors. During the second game of the year, Hyatt achieved a career-high 11 receptions in a game against Pittsburgh.
He also recorded his first career 100-yard game against Akron. Following an injury to Cedric Tillman, Hyatt surfaced as Tennessee's primary pass-catching target. His notable performance against Alabama, where he recorded a career-high 207 receiving yards and caught a school-record five touchdowns, earned him the title of SEC Offensive Player of the Week.
Hyatt's performance continued to shine throughout the season, breaking the Tennessee record for single-season touchdown receptions and leading the SEC in receiving yards and touchdowns.
Unfortunately, his team suffered a disappointing defeat against South Carolina, dashing their playoff hopes. However, Hyatt bounced back and ended the season with impressive stats: 67 catches, 1,267 yards, and 15 touchdowns.
Following the season, Hyatt received the Fred Biletnikoff Award for the nation's best receiver, becoming the first Tennessee player to win this award. He was also named a unanimous All-American, a first for the Volunteers since 2009.
Jalin Hyatt NFL
April 28, 2023: Jalin Hyatt was drafted by the New York Giants in the third round (73rd overall) in the 2023 NFL draft.
May 15, 2023: He signed his rookie-level contract with the Giants.
September 10, 2023: Hyatt made his NFL debut in a disappointing 40-0 loss against the Dallas Cowboys.
Jalin Hyatt Contract and Salary
On May 15, 2023, Jalin Hyatt signed a four-year, $5.62 million contract with the New York Giants. The deal included a $1 million signing bonus, $2 million guarantee and an annual salary of $1.4 million.
Jalin Hyatt Family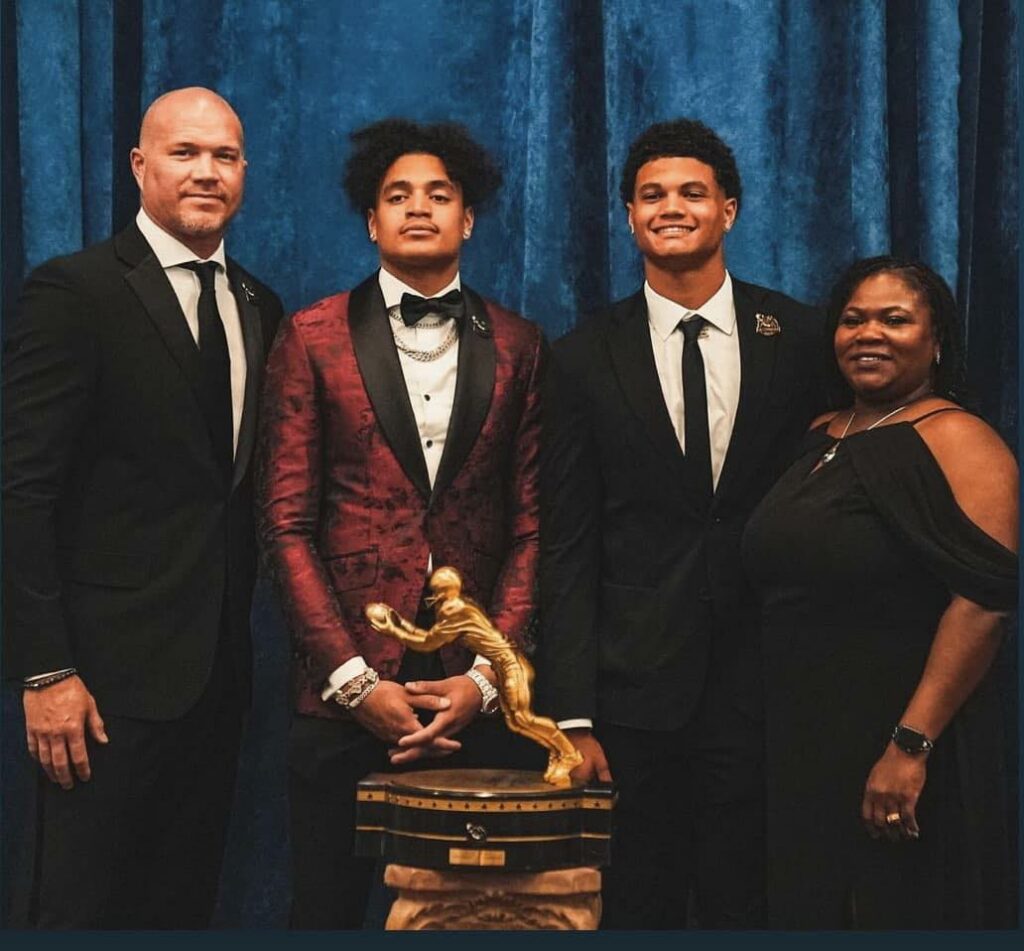 Jalin Hyatt's family comprises his father, Jamie, mother Enevelyn Hyatt, and young brother Devin Hyatt.
Jalin Hyatt Father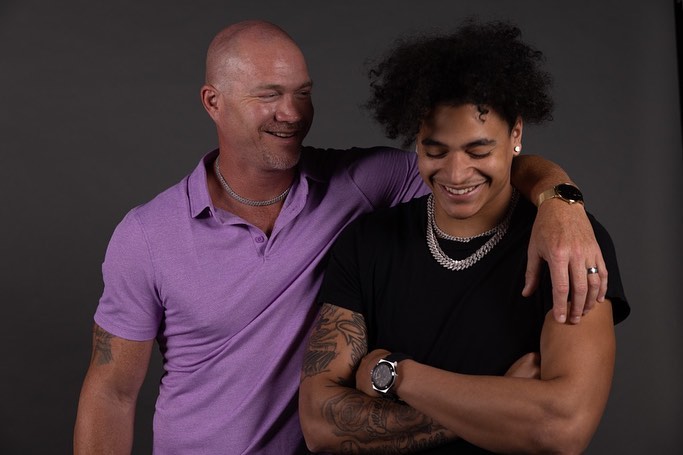 Jamie Hyatt
Jalin Hyatt's father is Jamie Hyatt (b. March 1, 1975) a former basketball player in college and cyclist, now a coach and English teacher at Dutch Fork High School. Before that, Jamie Hyatt was an English teacher at Chapin High School. He attended Latta High School and studied English at Newberry College.
Jalin Hyatt Mother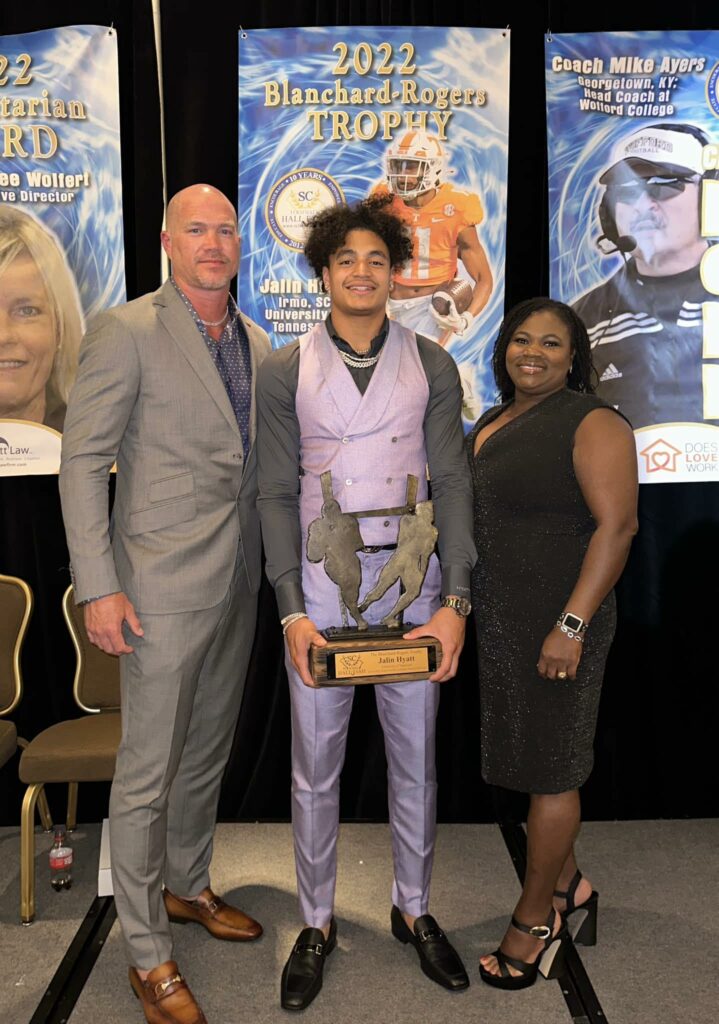 Enevelyn Hyatt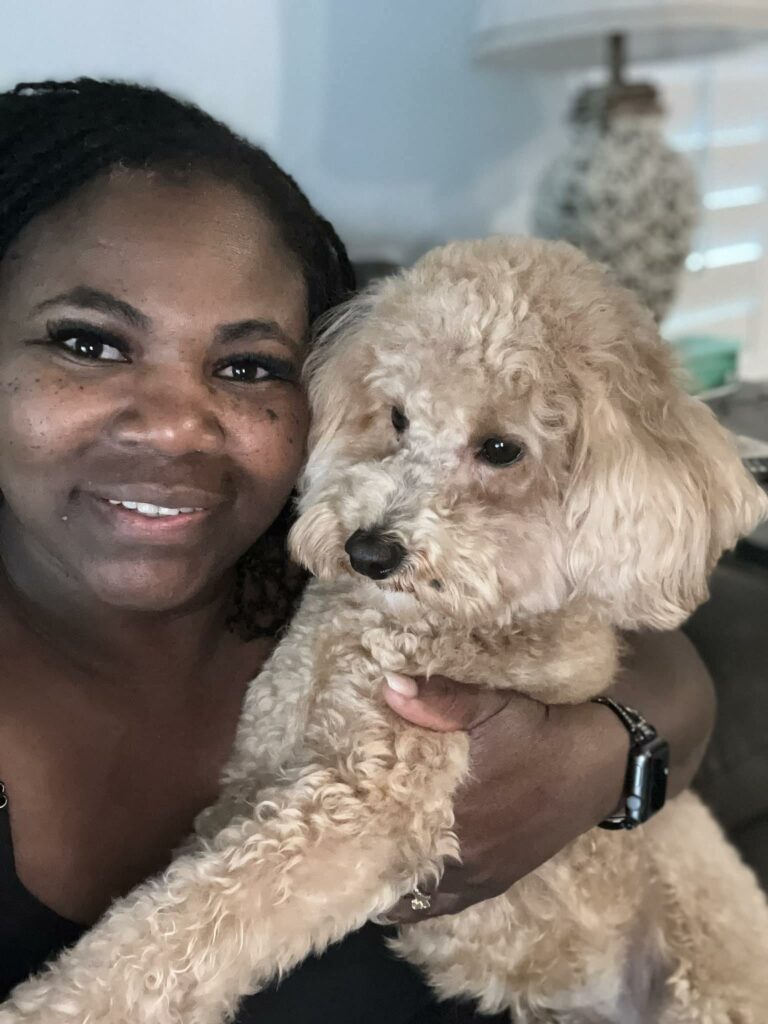 Jalin Hyatt's amazing mother Enevelyn Hyatt, was born Enevelyn B. Davis on October 28, 1976. She attended Latta High School, where she met and started dating her husband Jamie.
Enevelyn Hyatt a collegiate sprinter ( all-state 100-meter) at Newberry College is nowadays a match teacher at Lexington/Richland SD#5.
Jalin Hyatt Brother
Devin Hyatt
Jalin Hyatt's 6'2 Devin Hyatt a wide receiver with the Arizona Wildcats, before that Devin honed their football skills at the IMG Academy, located in Bradenton, Florida. Over three varsity seasons, they managed to secure 20 catches for a total of 410 yards and made three touchdowns. Their average stood at 20.5 yards per catch and 24.1 yards per game, with their longest catch extending to 57 yards.
Their sophomore year was especially remarkable, setting personal records with 13 receptions, 228 yards, and a longest catch of 57 yards. They were rated as a three-star recruit by 247Sports and were ranked as the 107th best wide receiver on a national scale.
Kevin Cummings, the wide receivers coach, recruited them. They officially joined the Wildcats team on February 1, 2023, as a mid-year entry. Their talents attracted numerous offers from several prestigious colleges including Auburn, Kentucky, Alabama, Coastal Carolina, Colorado, Florida State, Georgia, Louisville, Marshall, Michigan State, Mississippi State, Ole Miss, Oregon, Penn State, South Carolina, Tennessee, UCF, Virginia Tech, and West Virginia.
Jalin Hyatt Girlfriend
Jalin Hyatt doesn't have a girlfriend at the moment.