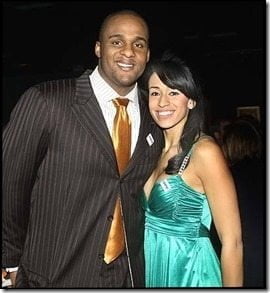 Meet Jenna Gomez, girlfriend of NBA player Glen "Big Baby" Davis. Jenna and Glen started dating during Davis' 2007-2008 rookie season. Jenna was a star player for the Tufts University Women's Basketball Team. She was a three year starter, and senior co-captain. It appears this couple have a lot in common! She also played as a Guard/Forward! On her senior year in 2005, Jenna played in 19 of 24 games. You can see her entire stats here.
Jenna graduated from Tuft University with a child development degree. During an interview in 2008, Jenna was asked what she plans to do after graduating from college. Jenna replied,
"At this point I'm not exactly sure what I will be doing after college, but I know that I want to work with children and help the impoverished. My passion is children and I hope to make a difference as much as I can".
Jenna and Glen lived together in the Boston area. Jenna was very supportive as the couple faced experiencing the uncertainty of life as an unrestricted free agent in the NBA. Without having a new contract, Jenna and Glen started thinking they might soon be packing up and leaving the Boston Celtics. Glen said,
"There was a point in time when I thought I wasn't going to come back." "I was telling my girlfriend, 'Hey, we gotta pack. It's time to go.' There was a point in time then, but it's so funny how things change so quickly."
On August 10th, 2009, the NBA Boston Celtics signed Davis to a two-year contract. A league source said the deal is worth $6.3 million, with $3 million due next season.
On 2011 Jenna and Davis did have to pack their bags, when the power forward was signed and traded to the Orlando Magic.
Jenna is originally from Norfolk, MA and her man who had gone from Big Baby to big player; adopted a vegan diet earlier this year for health reasons but is obvious Jenna, who previously convinced him that he needed to put in time at the gym to practice had much to do with his new eating lifestyle—seems to be cheating his way into eating some turkey on thanksgiving! For all of those in need of last-minute instruction on the proper technique of turkey carving, let Jenna's boyfriend be your guide by watching the video below!