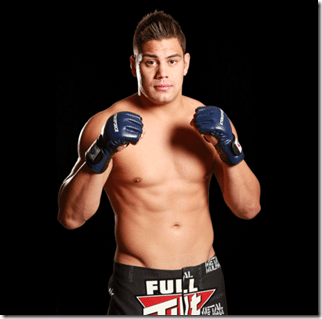 Sad news for the MMA heavyweight division, we've heard 30-year-old fighter Shane Del Rosario suffered cardiac arrest on Tuesday morning and remains in critical condition at Hoag Memorial Hospital Presbyterian in Newport Beach, Calif.
Shane Kalani del Rosario who is a kickboxer and mixed martial artist currently signed to the Ultimate Fighting Championship was born September 23, 1983.
He had a catastrophic cardiovascular collapse at home on Tuesday morning, read his manager's statement. Del Rosario was found by his roommate UFC flyweight Ian McCall, who called 911 and administered CPR to del Rosario before he was taken to the hospital. Rosario had no prior health issues with his heart.
The 30-year-old del Rosario was scheduled to make his third Octagon appearance against Carlos Augusto Filho at UFC 168, but the bout was canceled when both men suffered injuries leading up to their Dec. 28 encounter. The Norwegian and Hawaiian descent 6 ft 4 fighter first started training at age 17 and has experienced many successes, having under his belt, a Kickboxing record of eight wins out of nine; 11 MMA wins out of 13 and an Amateur Muay Thai record of 3 out of 3.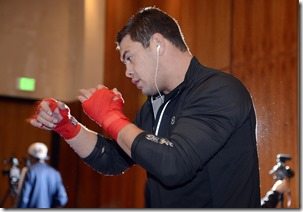 After beginning his professional MMA career with 11 straight victories; including three with Strikeforce — Del Rosario suffered a herniated disc in an April 2011 car accident. He returned to make his Octagon debut against Stipe Miocic at UFC 146, where he lost via second-round TKO. He was knocked out by Pat Barry in his last outing at "The Ultimate Fighter 16" finale.
Although it was reported by close friend Erick Apple, that " if Shane is going to survive, and he's going to be OK, it would be a big deal," Shane would have had an amazing career. We are sure his lady of interest—though we haven't heard anything from her—or anyone who is by his side would be nothing but proud of "No Limits" Shane Del Rosario.
His friends from Team Oyama also showed their support for their friend, on the website they posted
Please say a prayer for our dear friend Shane and his family for a full recovery.
We are confident he is fighting with all in him, and that his family, friend and that special someone are right there next to him, during this hard times.
Follow him on Twitter here.