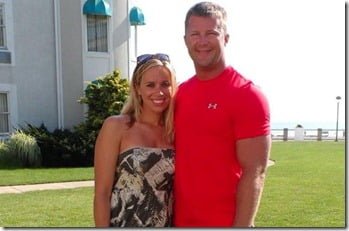 Authorities found the dead body of former Grand Valley State University Quarterback, Cullen Finnerty, in a wooden area in Webber Township, Michigan, about a mile from where he disappeared, said Lake County Undersheriff Dennis Robinson. His death is still a mystery and an autopsy will be needed to determine how he died, according to authorities. Finnerty went missing Sunday while fishing near his family's cottage.
Finnerty called his wife Jenn on Sunday and told her he was in danger while fishing on the Baldwin River. In the phone call he said "he was nervous about something," Sheriff Robert Hilts said Tuesday.
"Based on that call, the family suspected he might be having some kind of a mental episode — that he was either afraid or something and ran off into the woods," Hilts said.
30-year-old Cullen Finnerty was married to 32-year-old Jennifer Elizabeth Finnerty. She studied at Fruitport High School in Michigan and later she attended the Graduate School of Arts and Sciences at Grand Valley State University. Originally from Muskegon, Jenn has also lived in Howell and Grand Haven. She now lives in Detroit, Michigan.
Cullen married Jenn Brink, later named Jenn Finnerty, on January 9, 2010. The couple have two small children together, a son and a daughter.
Finnerty led Grand Valley State University to three Division II national titles and more than 50 wins during his four years as a starter in Allendale, Michigan, last decade. He was briefly a member of the Baltimore Ravens and later the Denver Broncos in 2008.