Meet Jo Garner
Jo Garner is the lovely girlfriend of NFL player, Justin Houston. Her 27-year-old man is the outside linebacker for the Kansas City Chiefs and according to his profile he is active for Saturday's NFL Divisional Round.
Though Houston has been dealing with some discomfort from the knee brace he's wearing, he's likely to get some field action since he was able to play against the Texans last weekend.
Jo's man played college football at Georgia. He was considered one of the top linebackers in the draft. Things were looking bright for him but a test showed he was positive for and ended up being picked up by the Chiefs in the third round, drafted 70th overall. However history has shown again and again, we shouldn't judge a book by his cover.
He has only made roughly $3m over the course of his rookie contract. For that small price, Kansas City got 200 tackles, 48.5 sacks and five fumble recoveries.
Houston has grown not only in the field but also is regarded as a leader in the locker room, helping keep things together when a rash of injuries struck last season, The Guardian reported.
Last July, Jo's man became the All-Pro the highest-paid linebacker in NFL history, when the team and Houston agreed to a six-year, $101m contract just hours before the deadline for a long-term deal.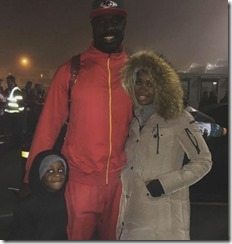 In 2015 Houston broke Derrick Thomas's franchise record with 22 sacks. He had four alone in a dynamic season-ending game against San Diego, leaving him a half-sack short of the NFL's single-season record set by the Giants' Michael Strahan.
Those stats alone sent Houston to his third consecutive Pro Bowl and earned him first-team All-Pro honors for the first time in his four-year career.
Jo Garner's man really seems to have turned around from that shameful start to his NFL career. The 6 ft 3 player often posts on social media about his faith. You know what they say, behind a great man, there is always a great woman.
Jo Garner and Houston have been together for a while now. Together they are the parents of a young son.
You can find the lovely Jo Garner on Instagram here.