Meet Lauren Barr
Lauren Barr is the supposedly new girlfriend of PGA golfer Rickie Fowler. Recent reports indicate the 27-year-old pro golfer has put his eyes, this time on miss Barr.
There is however, a dramatic spin to the story. According to the NY Post, Lauren Barr dumped her last romantic conquests in order to be with Fowler.
Lauren Barr –who happens to be a former contestant on the Reality TV show, The Bachelor –left the series after she didn't accept a rose from current Bachelor, Ben Higgins.
During Monday night's episode, we saw Lauren Barr walked away from Higgins claiming she found it difficult to get to know Ben being just another face in the group of gorgeous girls. She looked at Ben and said:
"I think it's really hard for me to be here, and I don't think I can do it,"
Thought the real reason could be she and Fowler had already begun their romance. Though Rickie has yet to make any comments, Lauren Barr has posted several images of them together on her Instagram account in the last few months. Keep in mind the show began filming in September, so she and Rickie Fowler have been seeing each other ever since.
About four months ago she posted the photo below and wrote: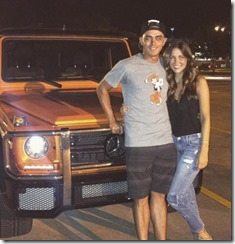 "So thankful for such an amazing opportunity. I went for the right reasons & left for the right reasons <3,"
As for Rickie , he was previously linked to brunette stunner, Alexis Radock. Reports say she's been visibly absent from his social media for the past 6-months.
You can read all about Alexis Randock on a previous article below.
ALEXIS RANDOCK –RICKY FOWLER'S GIRLFRIEND
So, who is Lauren Barr?
Lauren Barr is a 23-year-old fashion buyer from Stilwater, Okla. According to Reality Steve, Lauren Barr is a Pi Phi alum from Oklahoma State University's class of 2013. She works at a fashion boutique in Oklahoma called, Shop Nickel.
She has one tattoo, loves rap music and admitted she was in Germany and had to go to the doctor for constipation while her boyfriend translated everything.
Lauren has a sister named, Megan Alisse Redden. Lauren is also a happy aunt to her sister's baby.
what do you think of Fowler's new gal?
You can find Lauren Barr on Instagram here.