Joana Pereira
Joana Pereira is the former wag of Portuguese footballer, Rui Patricio. Her ex-guy who is Portugal number 1, earned his 50th cap for Portugal in Thursday's Euro 2016 quarter-final victory against Poland, in which he saved the decisive spot-kick from Jakub Blaszczykowski.
Joana's hubby for less than a year, plays for Sporting as a goalkeeper. Patricio was born Rui Pedro dos Santos Patrício on February 15, 1988. The goalkeeper debuted for the Portuguese national team in 2010 and began playing professionally in 2006 for Sporting CP of the Portuguese Primeira Liga.
His youth career started in 2000 at the academy of Leiria Marrazes, where he received trainings in football during a season. The former striker began his goalkeeping career, being appointed to that position thanks to his height and for a tantrum that the goalkeeper threw at the time.
In 2001, the young goalkeeper was noticed by the scouts from Sporting CP. He passed all the preliminary tests successfully and was signed to the Sporting youth academy. He spent five years of his junior career playing for the club's team. In the summer 2006, Rui got promotion to the main team.
After signing his first professional contract, he officially became a member of Sporting senior squad. At first he made occasional appearances as a starter, spending the majority of matches on the bench as a sub.
From 2006 until 2009, Rui was the representative of the Portugal national youth team at U-19, U-20, U-21 and U-23 levels. In total he was capped 31 times. Since 2010, Patrício has been called up for the Portugal national squad more than ten times.
He's been present in two European Championships final stages (2008 and 2012) and two World Cups (2010 and 2014).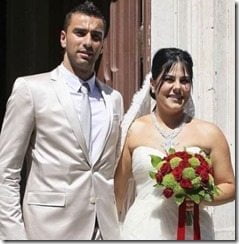 According to the Chronicle, Sporting's Rui Patricio is one player being currently being linked to Everton. The same can't be said about his personal life. It seems Rui hasn't been able to find love, he split from wife, Joana Pereira just months after their nuptials.
Joana Pereira was married to one of the best goalkeepers in the world. The once happy couple tied the knot in June 2011 but only months later they called it quits. They had been in a relationship for seven years before they walked the isle, meaning Joana Pereira was key in the beginning of his career.
The then 23-year-old Patricio was said to be very young for the marriage and close sources to the couple said he wanted to live other things. During divorce proceeding the ex-couple reached agreement on the division of property, including a house in Alcochete, Montijo.
It was a turbulent separation since both sides were accused of cheating and Rui was very close to his ex's family. Joana Pereira would have allegedly committed adultery with her personal trainer. Also Rui Patrício was said to have had an extramarital relationship with host Liliana Aguiar. Reason, in fact, initially appointed to the marriage end with Joana Pereira.
Speaking to the magazine New People , Joana Pereira, assured that she made peace with her ex-husband.