Mickie Krzyzewski
Meet Mickie Krzyzewski the lovely Mrs. K! born Carol Marsh Krzyzewski is the incredible wife of coach Mike Krzyzewski, the Duke Blue Devil's head coach. Prior to joining Duke in 1980, Coach K played at Army, his alma mater.
Mike Krzyzewski Parents & Brother
Coach Mike Krzyzewski was born Michael William Krzyzewski on February 13, 1947, in Chicago, Illinois. He is one of two sons born to Polish immigrants William Krzyzewski and Emily Mildred Krzyzewski (nee. Pituch). His brother is William Krzyzewski  Jr.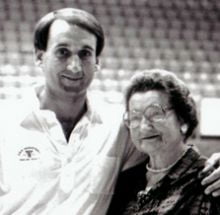 Coach K's dad William Krzyzewski born on November 20, 1910, died at the age of 58, on March 2, 1969, in Chicago, Illinois. His mother Emily (b. February 3, 1912) described as a humble cleaning lady who fought a brave battle with cancer until her last breath on September 6, 2006, she was 84. Coach K founded the Emily Krzyzewski Family Life Center in her name, its mission is to "inspire students to be leaders, help them achieve in school, go to college, and break the cycle of poverty, plus it serves thousands of students and community members monthly through its multipurpose rooms, gymnasium and performance stage."
Mike Krzyzewski's brother William Krzyzewski born on November 27, 1942, was a retired captain of the Chicago Fire Department for over three decades. He was 71, when he died on December 26, 2013.
Mike Krzyzewski Education
Mike Krzyzewski played shooting guard and point guard at Archbishop Weber High School and later for the Army Black Knights Men's basketball team. Coach K was the captain of the Army team his senior year. After he graduated from Army in 1969, he served in the U.S. Army first as an officer in 1969 and retired with the rank of captain in 1974.
Related Story: Jon Scheyer wife Marcelle Provencial
Mike Krzyzewski  Coaching Career Timeline
He started his coaching career as an assistant coach for his Army Coach Bob Knight for the Indiana Hoosiers, in 1974.
From 1975 to 1980, got his first head coaching job at Army, his alma mater.
He joined the Duke Blue Devils Men's basketball team on March 19, 1980.
Coach Mike Krzyzewski served as head coach for the United States National basketball team, which won the gold at the 1984 Olympics in Los Angeles, Barcelona (1992), Beijing 2008, 2012 in London, 2015 Olympics in Rio de Janeiro, 2010 World Championships in Turkey and Spain in 2014, Americans Championships in Portland in 1992 and Las Vegas in 2007.
Coach K was also leading the USA Team that won bronze medals at the FIBA World Championships in Argentina and Japan in 1990 and 2006.
The Blue Devils advance to the Sweet 16, 2022 tournament, facing Mark Adams and the Texas Tech Red Raiders.
Defeated Arkansas and Eric Musselman 78-69 in the Elite Eight.
On April 2, 2022, they advance to the Final Four, against Hubert Davis, and the Tar Heels led by Armando Bacot.
Mike Krzyzewski Net Worth
Duke Coach K, Mike Krzyzewski has a net worth estimated at $45 million as of March 2022.
Mike Krzyzewski  Contract & Salary
In 2020, Sports Illustrated referred to Mike Krzyzewski as the second-highest-paid college coach, at the time coach K was earning an annual salary of $7,256,924 plus incentives. His annual salary in 2022 is $9.7 million.
Mike Krzyzewski Retirement
On June 3rd, 2021, Coach Mike Krzyzewski announced he would retire after the 2021-22 season ends.
"You might ask, 'Why are you doing this right now?' Look, this is not about health. Mickie and I, whether we look it or not — she does — whether I look healthy … I am. It's not about COVID or saying, 'Boy, that year was so bad.' It's not about that. It's certainly not about what's going on with college basketball. 'Boy, the game is changing.' All right. I've been in it for 46 years. You think the game has never changed?"
Mike Krzyzewski  Wife
Mickie Krzyzewski
Mickie Krzyzewski is originally from Alexandria, VA. She was born Carol Marsh on September 26, 1946. Mickie Krzyzewski has been living in Durham, North Carolina since 2005. Before that, she lived in Washington, DC from 1999 to 2004.
Mike met the former Carol Marsh, known as Mickie when he was home on break from West Point and she was working out of Chicago as a stewardess for United Airlines. They went out on a date to a Chicago Bears football game, and he somehow told her that she had been his third choice after two others turned him down.
"I had never known someone who could be so honest and so blatantly stupid," Carol Krzyzewski said. "I was thinking, How can this guy be so dumb?"
On his graduation day on June 4th, 1969, the couple tied the knot in the academy's Catholic chapel at West Point. He was dressed in his Army "blues," a formal uniform he'd become eligible to wear only a few hours earlier when he graduated as an officer. They have three adult daughters: Debbie, Lindy, and Jamie, and eight grandchildren. On their 35th anniversary in June of 2004, coach Mike and his wife renewed their wedding vows at Duke Chapel.
Mike Krzyzewski's interactive/feminine qualities of leadership may be partly innate, but to a large extent, he learned them from his family. He said:
"There's an empathetic part of leadership, and this is where my wife and my daughters have had a huge impact on me. Guys don't share insights. If a guy does, we call him a blowhard or a know-it-all, so we don't do it."
Coach K and wife Mickie Krzyzewski participate regularly in the Durham, NC area's charitable community; served as co-chairs for Duke Children's Miracle Network Telethon, and been involved in numerous campaigns against drug abuse and drunk driving.
Mickie Krzyzewski and her famous husband also established the Krzyzewski Family Scholarship Endowment, which provides $100,000 in scholarships for Duke students from North and South Carolina.
Read: Paolo Banchero Mother Rhonda Banchero