Jaye Sousoures Maddon
Jaye Sousoures Maddon, the second wife of MLB manager Joe Maddon, is the MLB Wag that we are here to talk to you about. Her hubby is the Los Angeles Angels manager; he previously was a manager for the Chicago Cubs and the Tampa Bay Rays.
Prior to embarking into managing, Joe was a coach for the California Angels. But we will tell you a few things about Joe because FabWags is all about the WAGs!!
Joe Maddon Bio
In the first place, let me tell you that Joe Maddon was born February 8, 1954, in West Hazleton, Penn. He is the son of Albina Klocek, aka Beanie Maddon from Poland, and her husband, Joseph Anthony Maddonini, born in Italy, whose father Carmen Maddonini thought about shortening his family name since they were living in the United States. Carmen Maddon emigrated from Italy in the 1930s, became a U.S Citizen in 1921 at the age of 28, and opened C. Maddon & Sons Plumbing in 1936.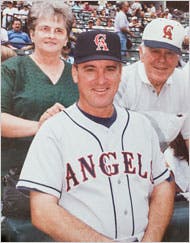 Joe Sr. took over the family's plumbing business C. Maddon & Sons Plumbing and Heating, conveniently located below his apartment on 11th Street, where his wife, two sons Joe, Mark, and daughter Carmine also lived. While Joe chose a career in sports, his brother Mark took over their father's business; his sister Carmine Parlatore became a nurse, she worked as a nurse for over two decades before she decided to quit and opened an antique store on Broad Street.
His father, famously known in Hazleton, PA as Joe the  Plumber, passed away in 2002; Beanie continues to live in the same apartment, back in 2008, the New York Times talked to Beanie, then 75.
"He could have the worst day in the world, and come in the door and you'd never know it," Beanie Maddon, 75, said by telephone Monday from that apartment. In true Maddon fashion, she still works regularly as a bookkeeper and waitress — call her a utility player — at the Third Base Luncheonette in town.

"He never complained. Never," she said of her husband. "When he'd run into a problem down in the shop, and he couldn't find a part, he'd make it. That's the kind of man he was: 'O.K., don't worry. Wait, we'll get it done.' "
Albina Maddon was born in 1933, back in April 2015; while her son coached the Chicago Cubs, Mrs. Madden was invited to throw the first pitch before the game against the St. Louis Cardinals.
Joe's two siblings are Carmine Irene Maddon, born on May 23, 1955, and Mark Anthony, born on September 21, 1958; they reside in Pennsylvania and St. Augustine, Florida, respectively. Mark is a commercial and industrial sales representative at Coast Pump Water Technologies.
Where did Joe Maddon go to college?
After he graduated from Hazleton High School, Joe Maddon attended Lafayette College, where he was a member of the Zeta Psi fraternity, played football and baseball (first shortstop and pitcher and later was a catcher), and graduated in 1976. Since he left Lafayette, Joe has visited the campus many times, but his visit on September 3, 2010, was to receive an honorary doctor of letters.
"I always love coming back home," he said before a talk with students, faculty and friends. "I love the area. I always brag on the area. I brag on Hazleton and on Lafayette College all the time. I'm so fortunate and so proud to be from both places."

I was down to the old (Zeta Psi) fraternity house, and it looks fantastic," he said. "Every time I walk on this campus I get such a warm feeling. I had a great 31/2 years here, and the people are very special."
Joe Maddon Career
Maddon's career splits into two phases, the first one as a player, as a catcher spent four seasons playing with the Angeles Angels' the minor league team the Quad Cities Angels, the Santa Clara Padres, and later for the Salinas Angels, finished that phase, hitting .267 with 5 home runs in 514 at-bats. He quit playing in 1979.
He started his coaching career with the Angels in 1979 as a scout, later their Minor League roving hitting instructor, served as a first base coach, bench coach, and interim manager between 1995 until 2006; he left the organization after 31 years.
On November 15, 2005, he signed a deal to manage the Tampa Bay Rays, formerly known as Tampa Bay Devil Rays; three years later, under Maddon, the Tampa Bay Rays reached their first American League Eastern Division title.
He agreed to a contract extension with the Tampa Bay Rays on May 25, 2009, led the rays to their second playoffs appearance, but sadly lost the wild card to the Texas Rangers 3 games to 1. Joe was named AL Manager of the Year that year and agreed to a second contract extension with the Rats in February 2012. He left the Tampa Bay Rays with a record of 705 losses and 754 wins in October 2014.
Nearly a month later, Joe Maddon agreed to a five-year contract worth $25 million with the Chicago Cubs; under Joe's management, the Chicago Cubs won their first World Series title in 108 years after defeating the Cleveland Indians in Game 7 in 2016.
Two years after the World Series title, the Chicago Cubs decided not to extend Maddon's contract; he left the Cubs after the 2019 season.
The Los Angeles Angels announced Joe Maddon would return to their team on October 16, 2019, that same day he agreed to a three-year contract with the Angels.
"We are thrilled that Joe is coming back home and bringing an exciting brand of baseball to our fans," general manager Billy Eppler said. "Every stop he has made throughout his managerial career, he has built a culture that is focused on winning while also allowing his players to thrive. We believe Joe will be a great asset for our club and look forward to him leading the team to another World Series championship."
How many times has Joe Maddon been ejected?
He has been ejected during his second stint with the Angels, nor he was while he first managed the Los Angeles Angels. Still, throughout his career, Joe Maddon has been ejected 52 times; he was ejected 36 times while he was manager of the Tampa Bay Rays and 16 while he managed the Chicago Cubs. Take a look at Joe Maddon's ejection compilation video below.
 What is Joe Maddon salary and Net Worth?
According to Celebrity Net Worth, Joe Maddon's net worth has been estimated at $12 million; he has an annual salary of $1.8 million. His latest contract with the Los Angeles Angels, for three years, worth $12 million, made Joe Maddon the second-highest paid manager in the MLB; the first is Terry Francona, manager for the Cleveland Indians, earning $4.2 per year.
Who is the current manager of the Chicago Cubs?
The Chicago Cubs' current manager is David Ross, who, before becoming the 55th manager of the Cubs, played as a catcher for the team from 2014 to 2016. Maddon left the Cubs in September 2019; his five-year contract with the Cubs was not renewed, becoming a free agent.
"We're both going to move on," Maddon said. "Hopefully, the Cubs are going to flourish. Hopefully, I get a chance to do this someplace else. But there are no tears shed. It's a good moment for everybody. And we're both excited about our futures."
After Joe Maddon's departure, the Chicago Cubs announced they hired their former catcher David Ross as their new manager; Ross and the Cubs agreed to a three-year contract on July 24, 2020.
"We are thrilled to name David Ross as the 55th manager in franchise history," Cubs president of baseball operations Theo Epstein said in a statement. "David is as gifted a leader as I've ever come across, and I expect him to become a great manager."
  Joe Maddon glasses frames
Joe Maddon's glasses are his signature mark, you know, like Bruce Arians' and his hat or Jurgen Klopp's glasses. Are you wondering where can you buy joe maddon glasses frames? Joe Maddon's black glasses had become so popular that when the Cubs reached the MLB playoffs, they gave aways replicas of Maddon's glasses to their fans; they are so popular that they have their own Twitter account.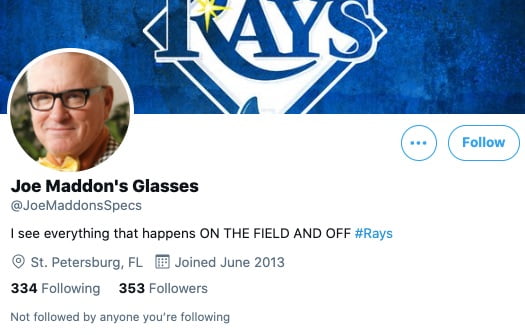 You can get your hands on Joe Maddon's frame glasses for $9.95 on eBay and $11.99 available on Amazon
Who is the best baseball manager of all time?
Major League Baseball has had some amazing managers, that is not easy to come to one name; however, if you really need to know one of the best, it would have to be  Joe McCarthy, the 1957 MLB Hall Of fame inductee, won seven MLB World Series titles, managed the Cubs, Yankees and the Boston Red Sox.
Other great MLB managers in addition to Joe Maddon, who changed the history of the Chicago Cubs forever, include Casey Stengel,  Joe Torre, who won 4 World Series, Sparky Anderson, Walter Alston, Tommy Lasorda, Bruce Bochy, John McGraw, and last but not least Tony La Russa, the Tampa native was the manager for the Chicago White Sox, Oakland Raiders, St. Louis Cardinals; he won three World Series titles in 1989, 2006 and 2011, named Manager of the Year four times and inducted into the MLB Hall of fame in 2014.
Joe Maddon Personal Life
As previously mentioned, Joe Maddon has been married twice, before his 2008 nuptial with Jaye Sousoures, now Jye Maddon, Joe married Betty Maddon, mother of his two children Sarah and Joey.
Betty Maddon born Betty Louise Stanton on January 1, 1953, in Quincy, California, where she attended Quincy High School; she later worked for Donna Tash, CNM; Betty resides in Mesa, Arizona. She and Joe tied the knot on March 13, 1981. After two children together and 18 years of marriage, Joe and Betty Maddon, also known as Bette Maddon, got a divorce.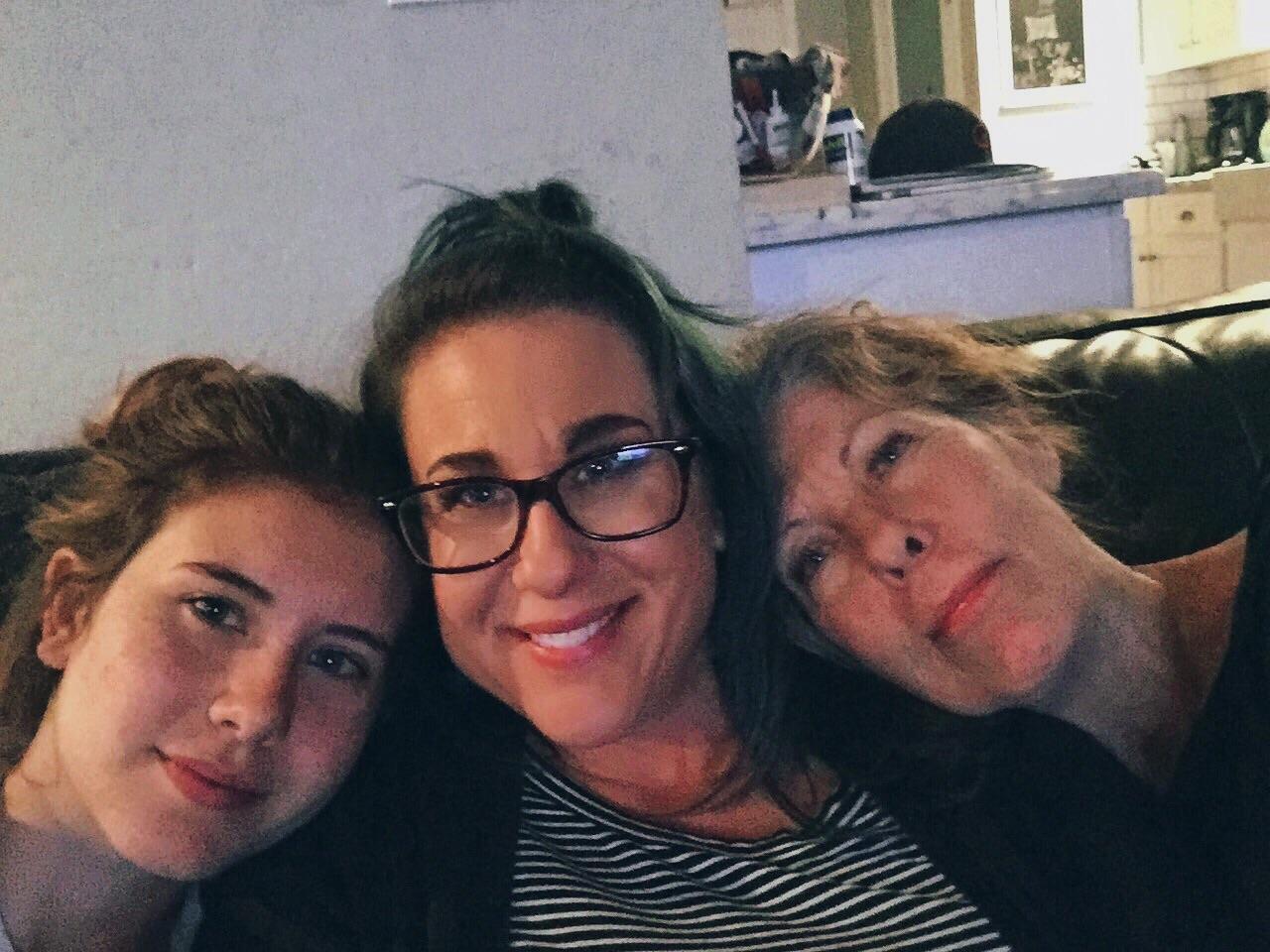 Joe Maddon Kids
Joe Maddon is the proud father of two children, Sarah and Joey, both born from his first marriage to Betty Maddon. Both Sarah and Joey are married with children and living in Arizona.
Sarah Maddon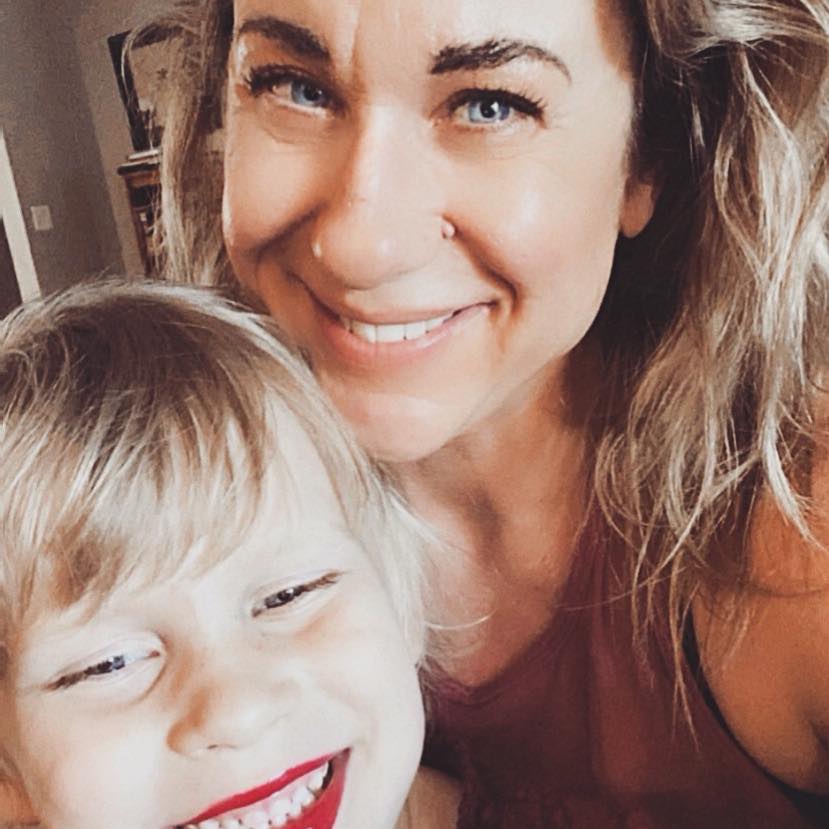 Sarah Maddon was born on November 22, 1982; it looks like Sarah has been married twice; online records showed that she used to be Sarah Maddon Vercelli, probably once married to ex-husband Chance Robert Vercelli, father of her eldest daughter Tyler Vercelli.
Sarah Maddon Bystry studied business management at the University of Phoenix; she is a certified personal trainer at FitLab and EZ Personal Training. She is currently married to Theo Bystry, father of her two youngest children, Carson and Tre.
Joey Maddon
36-year-old Joey, born Joseph Maddon, has been married to Natalie Maddon, formerly known as Natalie Clarkesince January 23, 2005; she graduated from the University of Phoenix. Joey and Natalie live in Mesa with their two children, Giuseppe and Coral.
Joe Maddon Wife
Joe was still married when he met the woman who then became his second wife. Jaye Sousoures was 29, an accountant and mother of two sons, who was also married when she met Joe in 1995. They started dating until 2000, a year after his divorce from Betty Maddon.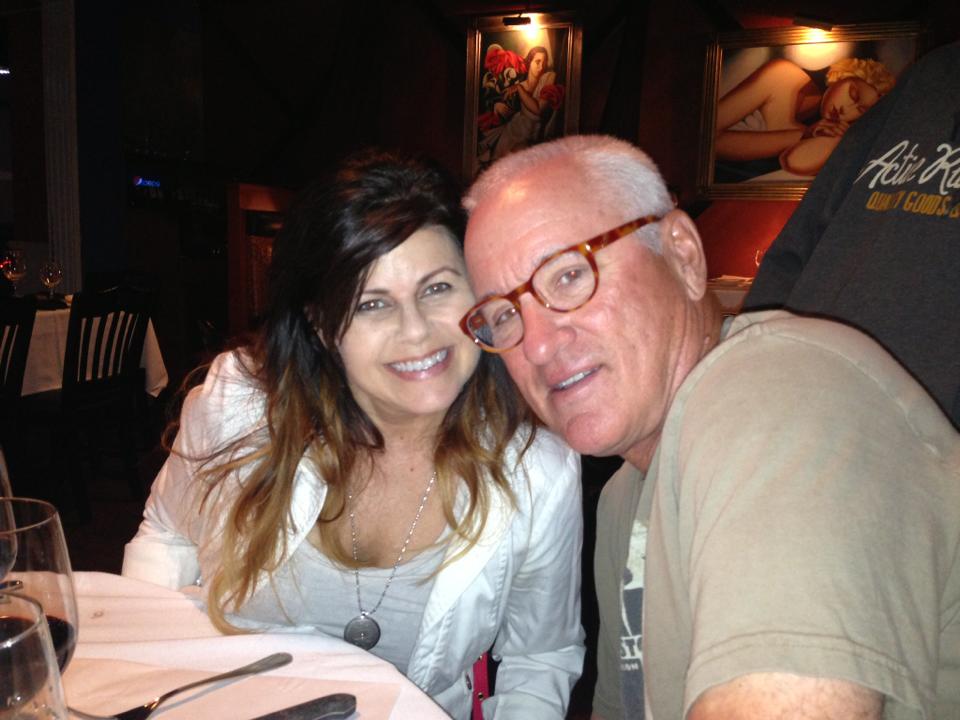 Jaye Sousoures
Jaye Sousoures was born Joyce Mary Sousoures Baudreau on April 30, 1962, in Fullerton, California. She is one of six children born to Eileen and Ted Sousoures, also parents of Jaye's siblings, Louise, Christopher, Steven, Philip, and Theresa. She graduated from Fuller Union High School.
Her father, Ted Sousoures, spent 30 years as a contract administrator in the aerospace industry; he was 81 when he died on March 10, 2011.
Jaye Sousoures  Wedding
Jaye and Joe Maddon met at a health club in Long Beach in 1995; they started dating five years later, got engaged in June 2007, and tied the knot on Nov. 8, 2008, at St. Juliana church in Fullerton, California and followed by an intimate reception at Queen Mary in Long Beach. The newlyweds spend their honeymoon in Europe.
What does Jaye Sousoures do now?
Mrs. Sousoures Maddon is the Founder, CEO at Epic Boxing & Fitness and runs Joe and her foundation Respect 90, created in 2015, to provide children and families opportunities to develop championship attitudes through sports, academics, and community involvement. Jaye Maddon holds a law degree from Western State University. She and her friend Stephanie Renica founded Third Base Concierge in 2008. They offer accounting and paralegal services, event planning, computer tutoring, running errands, personal shopping.
Prior to Respect 90, Jaye and Joe Maddon created HIP, the Hazelton Integration Project; its mission is to develop and maintain an atmosphere that will serve to unify the varied cultures of Hazleton.
Where can I find Jaye Sousoures?
Jaye Sousores Maddon is pretty active on social media; she is on Facebook and Instagram. Mrs. Maddon is more active on Instagram and has 414 followers. Jaye gives her followers an intimate look into her life with Joe, their trips, and some of her hobbies, like meditation and gardening, which she took up last year.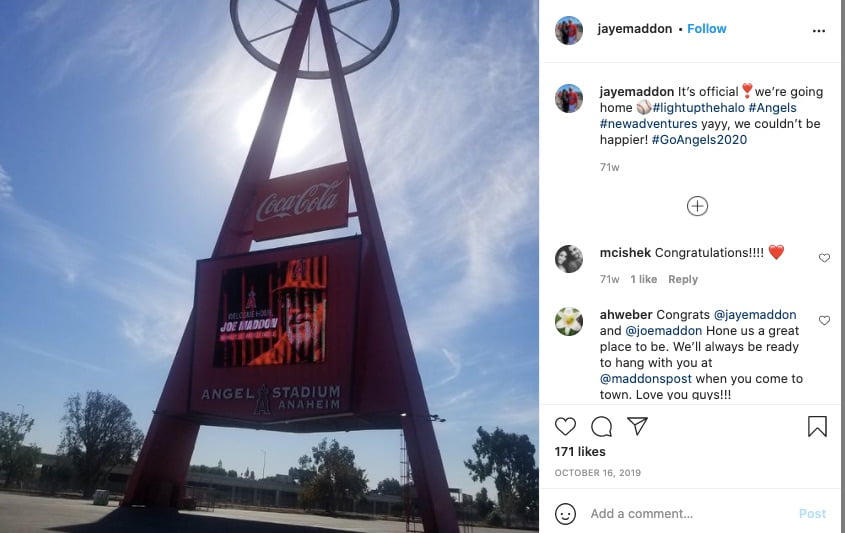 Jaye joyfully shared a photo on Instagram when Joe re-signed with the Angels in October 2019.
Where does Jaye Sousoures live?
Jaye Sousoures, aka Jaye Maddon, currently lives in Ocean Boulevard in Long Beach, California. She previously lived Bayshore Boulevard in Tampa, Florida; other addresses were in Brea, California, and Hazelton, PA.