Sarah Hynes
Sarah Hynes is the lovely wife of NHL coach John Hynes. her husband is the current coach for the New Jersey Devils; he previously was the assistant head coach for the Wilkes-Barre/Scranton Penguins.
He started his coaching career at the University of Massachusetts Lowell in 2000, two years later he was named the head coach of the USA Hockey's National Team Development Program; the Jersey Devils announced they hired coach Hynes on June 2, 2015.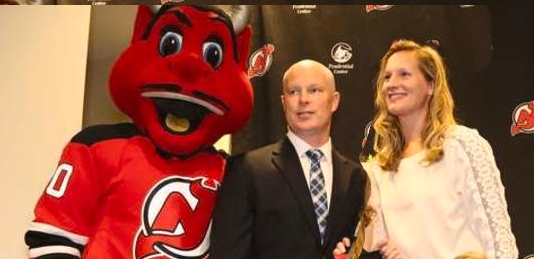 John Hynes has been happily married to Sarah for several years, they met in the university weight room; Mrs. Hynes formerly known as Sarah Ann Mikla was born on September 26, 1973, in Hammond, Wisconsin.
She graduated in 1991, from St. Croix Central High School; in 1996 received her bachelor's degree in movement science from the University of Pittsburgh, where she was a four-year letter winner in volleyball.
Sarah also holds a master's degree in teaching health and physical education, from UP. Mrs. Hynes a former college volleyball coach, started her career as a graduate assistant volunteer volleyball coach at her alma mater.
Subsequently worked as a health, physical education teacher and varsity volleyball coach at Oak Creek Tree High Schoo; later at the Milwaukee Sting Volleyball Club from 1997 to 1999. The following year the University of Dayton hired her as their new assistant coach, in 2002 the  University of Wisconsin named her their new director of volleyball operations.
Sarah Hynes, left her career to become a stay-at-home mom to her and her husband's three daughters; Sophia, Julia and Anna.