Maureen Babcock
Maureen Babcock is the NHL WAG and loving wife of coach Mike Babcock, head coach of the Toronto Maple Leafs and Canada' National Hockey Team. Coach Babcock holds an outstanding NHL record and same goes with the National Team.
However we are not going to tell you about his career, but rather about his pretty wife Maureen, so are you ready?
Before we can tell you about her biography, allow us to tell that Maureen's hubby was once a hockey player for the Saskatoon Blades of the WHL.
He also played at the University of Saskatchewan and McGill. Coach Babcock, holds a bachelor's degree in physical education and an Honorary Doctor of Laws (LL.D) from McGill and the Saskatoon correspondingly.
Prior to coaching, he played with Kelowna Wings, Whitley Warriors in the United Kingdom and the Vancouver Canucks in the 80's.
He started his coaching career with the Red Deer College Kings at Red Deer College in 1988. The Moose Jaw Warriors of the Western Hockey League hired him in 1991, before he had a short spell with the University of Lethbridge Pronghorns.
The Spokane Chiefs appointed him their head coach in 1994 and the Cincinnati Mighty Ducks in 2000. Two years later the Anaheim Ducks named Coach Babcock their head coach. After three years with Anaheim he left his job to join the Detroit Red Wings, the he helped win the Stanley Cup in 2008.
He signed a deal with the Toronto Maple Leafs on May 20, 2015. Mike Babcock has been the "Man" leading Canada's National Hockey Team since 2009.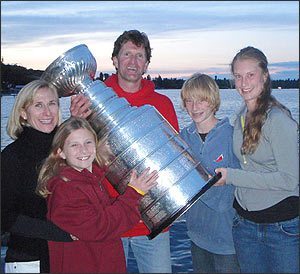 Coach Babcock's wife is Maureen Dunham Babcock, the mother of his three amazing children, Alexandra, Michael III, and Taylor.