Christina Sanchez
Meet Christina Sanchez, she could describe herself as a mother, daughter, sister, singer and model, but she also happens to be the baby mama of MLB player Jose Reyes, the Dominican infielder for the New York Mets who according to Christina, Jose demanded she kept her daughter's existence a secret to the world.
Christina Sanchez also known as Tina World Wide was born and raise in Philadelphia to Puerto Rican Parents. She few up surrounded by music, becoming a singer and songwriter was a no brainer. She knew what she wanted and how to connect with her fans throughout her music.
"I want my music to make people feel good. I want to inspire girls to be brave…like me."
Christina was 19 when while working in radio, she started singing and writing. Soon she was on every station in Philly, but also ad campaigns and television.
Tina knew at that point it was time to spread her wings and that took her to France, she hosted the Mix club in Paris France in 2012, where Zola Garcia a music producer who soon got her an attractive contract with MothaGeeka music/joz music/ and Smart a division of Sony Music France.
The story of Christina and Jose Reyes started between 2006 and 2007 and ended when she told him she was pregnant. Ms. Sanchez said Reyes screamed and demanded her to keep the child a secret from the world.
According to her attorney.
"José was seeing Christina for two years, then she read in the New York Post [in 2008] that he got married to Katherine. A month later, Christina found out she was pregnant, and he screamed and demanded she keep the child a secret."
Christina gave birth to her daughter Liyah, not long after he married his wife Katherine. Her birth was a secret, but she and little Liyah kept in touch with Jose Reyes. That ceased when Katherine found out of their existence in 2015.
Christina didn't hesitate to blast him on Twitter and then the world knew the whole thing.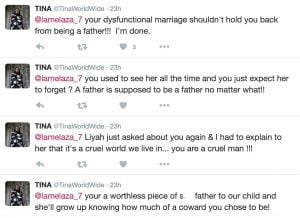 "You're a worthless piece of s – – t father to our child . . . Liyah just asked about you again & I had to explain to her that it's a cruel world we live in. You are a cruel man !!!" Gildin said, "All Christina wants is for José to be a dad to their daughter. She has been pleading with José to be in touch. The child misses her father. She can only see him by watching him play baseball on TV."