Meet Julie Tomsula
Julie Tomsula is the wife of NFL coach James Andrew Tomsula better known as Jim Tomsula. Her 47-year-old husband has just been relieved from his 49ers coaching duties!
Jim became the defensive line coach of the 49ers in February 2007. He was promoted to head coach in 2015, a position he served in for only one season. At the time he replaced Jim Harbaugh as head coach. '
According to reports, The 49ers announced on Sunday night Tomsula was out. CEO Jed York said in a statement:
"Jimmy has been a valuable member of the 49ers organization for the last nine years,"  "We all know he is a man of high character, and his contributions on the field and in our community have always been greatly appreciated. This entire organization is proud and grateful to have worked so closely alongside Jimmy. We all wish him and his family great success in the future."
Julie's man transfered from Middle Tennessee State, Tomsula was a defensive lineman at Catawba College in Salisbury, North Carolina, where he sustained a career-ending knee injury.
His coaching career began at his alma mater, Catawba College, in 1989 as the defensive line and strength coach. He spent the next season as a Woodland Hills (Pennsylvania) High assistant. After a two-year break selling medical equipment, he became a defensive assistant and strength coach at Charleston Southern University from 1992-95. Tomsula returned to Catawba as an assistant from 1997-2005, while also splitting time in NFL Europe (1998 England Monarchs, 1999-2003 Scottish Claymores, 2004-05 Berlin Thunder, 2006 Rhein Fire). In his head-coaching debut, he led the Rhein Fire to a 6-5 record and third-place finish.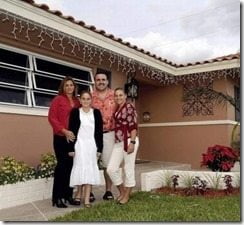 Pin
It must have been a tough weekend for Julie Tomsula, to learn her hubby was fired without much success to follow his name. Tomsula was fired after the 49ers' overtime win over the St. Louis Rams, which was just their fifth win this season.
Critics say The 49ers showed very little on the field under his leadership, though the roster was decimated in an awful offseason, Yahoo sports reported.
47-year-old Julie Tomsula was born Julie Ann Appel. She and her hubby —who's coached in NFL Europe longer than he's coached in the NFL -reside in California with their children. Julie Tomsula is the mother of three kids; daughters Britney and Brooke and 8-year-old son, James Bear Tomsula.
Julie Tomsula has been a dedicated mother and supportive coaching wife. She and her hubby support Football Camp for the Stars, where every year he volunteers as coach for athletes with Down Syndrome.
Any comments on Julie Tomsula's hubby being fired?
Let us know below!