24-year-old NBA player, Cleanthony Early is currently making headlines and is not because of his hoops. According to media reports the Knicks player was allegedly attacked by masked man while leaving a strip club in Queens!
What's worse, the young forward was shot in the right knee, according to police sources, the Daily News says.
Early was the victim of a coordinated robbery, police said he was surrounded by four to six men, two of them with guns. The perpetrators, stripped Cleanthony Early of his items and jewelry. Among the robbed property there's a gold necklace and gold caps on his teeth, his cash and his iPhone 6.
The scary scene took place early Wednesday, as he was leaving CityScapes gentlemen's club on 58th Street in Maspeth Queens. Sources also say, he was with his girlfriend when he left the club. question is who is NBA Cleanthony Early's Girlfriend?
We can't tell for sure, but what is clear is that he is keeping his mystery girl out of the spotlight. You can't even find her on his social media accounts.
He and his gal –who ever she is –first enjoyed dinner in SoHo, later arriving at CityScapes.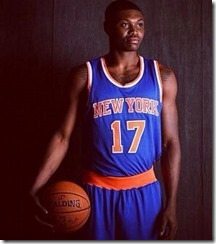 Early is very active on Twitter, Instagram and Facebook. The Wichita State Alum. often posts about his faith. His motto is: "Grinding Hard Now Live Good Later…God 1st & Know your Worth!"
He attended Sullivan Community College in upstate New York before starring at Wichita State.
The 6 ft 8 in baller is no stranger to violence. When he was in his teens, his mother had to relocate from The Bronx to suburban Middletown, New York, following the murder of Early's cousin.
Early –who was drafted in 2014 and is in his second season with the Knicks –was shot after the masked men stopped his Uber car, pulled him from the back seat and demanded he gave them everything. According to ESPN, the cab driver also was robbed.
Early has battled injuries during his career and missed two months of the 2014-15 season after undergoing arthroscopic surgery on his right knee, the same one injured in this morning's shooting.
Early has played in 10 games for the Knicks this season, after being recalled from the D-League Westchester Knicks.
He is said to be in stable condition at Elmhurst Hospital.