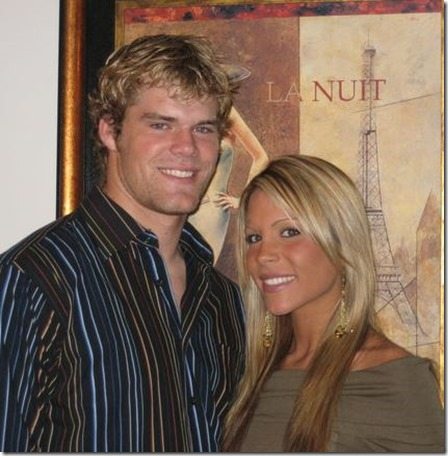 Meet Kara Dooley, she is the wife of 29-year-old Carolina Panthers tight end, Greg Olsen. Week 8 was just the second time in eight games that Olsen's production didn't justify a starting spot, a terrific ratio for any player, regardless of position; how do you think Kara's hubby will do tonight?
Kara and her man met a while back, over a decoded ago. They tied the knot in 2009 –while her man played for the Chicago Bears –and had a fancy party in Palm Beach, FL. The couple are the parents of three beautiful children.
When it comes to football players, there is nothing more you can say on how strong and athletic those guys need to be; but Kara Dooley, now Olsen, has also had to be a super strong woman.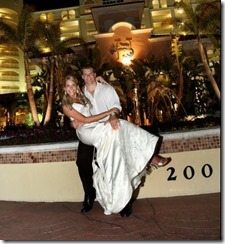 Kara and her hubby welcomed their first child in 2011. She gave birth to a baby boy, Tate in early June. The following year they expanded the family with two more additions at the price of one! This time Kara was expecting twins! She gave birth to daughter Talbot and son T. J. on October 2012. It was announced that one of the twins was born with a heart defect. A photo of the three adorable children below.
Nobody could have prepared Kara and her hubby to the news of possibly one of their children being sick. But she has done an amazing job taking care of her twins even when her hubby is away and she takes long, nerve raking hours waiting outside of operating rooms for her little one to be ok.
T.J has had to have a few heart procedures, most recently last September, Greg tweeted a photo of him at the hospital.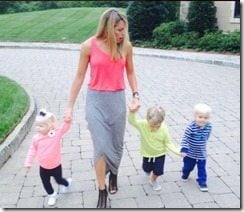 The mom of three is originally from Orlando, Florida. She worked as a realtor in Chicago, working for Katrina Campins Group. The family currently live in Charlotte, North Carolina.
We are pretty sure the twins, Tate and Kara will be watching tonight, are you?!
You can find the pretty blonde on Facebook here.