Karen McElwain
Karen McElwain is the wife of college football coach Jim McElwain, also knows as coach "Mac" is currently the coach for the Florida Gators. The 2015 Southeastern Conference Coach of the year, is also a former player.
Karen's husband was born March 1, 1962. He is an all-state quarterback at Missoula (Montana) Sentinel High School, McElwain played quarterback at Eastern Washington from 1980-83 and earned his degree in Education from EWU in 1984.
McElwain was at Eastern Washington from 1985-94 in a variety of capacities, starting as a graduate assistant and working his way up to quarterbacks and receivers coach. From 1995-99, McElwain was the offensive coordinator, quarterbacks and receivers coach at Montana State. Under his direction, quarterback Rob Compson threw for nearly 7,000 career yards and a school-record 54 touchdowns.
McElwain served as the assistant head coach, receivers coach and special teams coach at Michigan State from 2003-05. Prior to his stint at Michigan State, McElwain spent three seasons (2000-02) at Louisville as the receivers coach and special teams coach as the Cardinals earned bowl bids in each of those three seasons. He coached four first-team All-Conference USA selections at Louisville.
McElwain spent the 2006 season in the NFL as quarterbacks coach for the Oakland Raiders and served as the offensive coordinator and quarterbacks coach at Fresno State in 2007.In back-to-back seasons, McElwain led the Alabama offense to record-breaking seasons. (2009-2010).
McElwain left Alabama to become head coach at Colorado State in 2012. Before coaching for the Tide, he spent one season as Fresno State's offensive coordinator in 2007. McElwain also spent time as an assistant for the Oakland Raiders, Michigan State, Louisville, Montana State and Eastern Washington, coaching quarterbacks, wide receivers and special teams in addition to being an offensive coordinator and assistant head coach.
McElwain is known for his ability to figure out the personality of the individuals on his team –which has allowed him to find success anywhere he goes.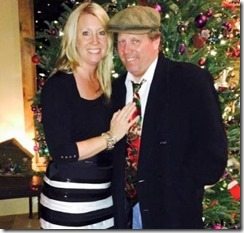 Karen McElwain has been married to coach Mac for the past 28-years. According to Gainesville.com, he gave her an article on the life of of coaches' wives before he popped the question.
Karen who dated Jim for four years before tying the knot in 1988, met him while attending Eastern Washington University.
51-year-old Karen McElwain and most of the coaches' wives, live an unconventional life, in her particular case, the long football journey has taken the couple through nine states.
The couple are the proud parents of three children, son Jerret McElwain and daughters Elizabeth and Johanna McElwain. The latest first lady of the Gator Nation gridiron, has also made stops in Washington, Montana State, Kentucky, Michigan State, Alabama and Colorado State, where McElwain was most recently head coach.
The couple's daughter Daughter JoHanna, 25, who lives in Arizona, also has a sports-related career working in marketing for EXOS. Second child, daughter Lizzie 22, is a senior education major while, 20-year-old son, Jerret attends the University of Alabama.
Jim has been open about the role of his wife in his success saying, "I'm only successful because of her,""She's been with me along the way. She cares about the kids that we coach and the people in these families that are involved in our organization and keeping all that together," he says. "She's the one who raised our kids and did an unbelievable job. I wouldn't have been able to do any of this stuff without her. She genuinely likes people and wants to be helpful and give of herself for the benefit of others."
Karen also keeps busy with a website she started with other coaching wives called Heart for the Game (heartforthegame.com). It serves as a place where they share heartfelt stories from around the country centered on fun, food and even fashion.
You can find Karen McElwain on Facebook here.