Meet hairdresser, model and former reality TV contestant: Kyle Krieger who is also, the brother of Washington Spirit right-back, Ali Krieger. 30-year-old Ali is a member of the United States Women's National Soccer Team.
Kyle and his sister are the children of Debbie and Ken, both Physical Education instructors. Kyle and his soccer player sister naturally gravitated towards many sports. But Ali grew to love playing soccer the most, according to her bio.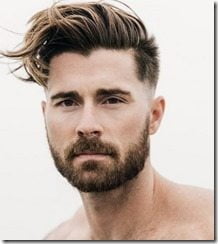 Gorgeous Kyle is a hairstylist at Chris McMillan, where he's been working since 2013. According to his salon profile, he specializes in Men's cutting and is the go-to guy for transforming your look from long to short or from classic to modern. Kyle rained at the Aveda Institute New York, where he then worked in New York for the following 5 years.
Outside the salon Kyle keeps busy working on editorial and print campaigns such as Levi's and Trina Turk. Kyle's known for being approachable, playful and having an appreciation for details large or small.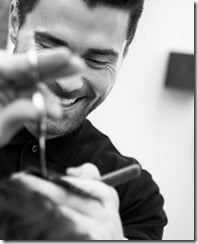 In 2013 Kyle –who is openly gay –competed on the new NBC survival show 'Get Out Alive With Bear.' Kyle and his sister have a great relationship but it wasn't always like that. During an interview he revealed "There was a time when I should have been there for her and I wasn't." What Kyle is talking about is when in 2005 his sister had a big health scare and one of the first calls she made was to her brother.
Kyle told USA TODAY
"I should have been the one who was there for her at that time, reaching out to her, but that was a low point for me.

"I was wrapped up in all my own stuff. I would take pretty much whatever people put in front of me: crystal meth, cocaine, alcohol, whatever. I was not in control of my life. And there she was, fighting for her own life but worrying about mine, sending me messages to tell me she loved me."
But all that is in the past, the 32-year-old turned his energies to fitness and his hairdressing career, he's been sober for more than eight years and is making a name for himself in L.A.
Kyle is now his sister biggest supporter and fan, he's always down to watch her games and tweet about it!
Check him out on Twitter here, Instagram here.