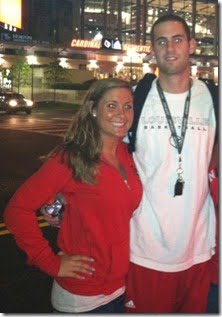 Louisville Cardinals player Luke Hancock has just been named the MOP – Most Outstanding Player. This is the first time ever that a non-starter has received the honor in the NCAA tournament's history, which dates to 1939. Louisville celebrated their first national title since 1986.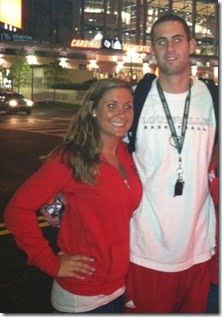 Hancock followed his 20-point performance against Wichita State in the national semifinals by tying a career-high 22 points against Michigan. He made all five of his three-point attempts against the Wolverines.
Luke was born on January 30, 1990. His parents are William and Venicia Hancock, and he has four brothers and one sister. Hancock attended Hidden Valley High School in Roanoke, Virginia… But is this guy available??? Nop, he isn't!
Luke Hancock is dating 24-year-old Kaycee Loucka. She is a Physician Advocate at Jewish Hospital & St. Mary's HealthCare, Louisville, since August 2012. Before that, she was an Intern for the Chief Operating Officer en Gastroenterology Associates of Northern Virginia, for seven months in 2012. And Administrative Assistant at George Mason Athletic Ticket, from August 2007 to May 2012. Kaycee is a Health Administration and Management graduate at George Mason University (2007 – 2012).
Kaycee Dilla Loucka was born on  February 14, 1989. Her parents are Debra and Nelson Loucka. She lives in Fairfax.
Reportedly, she made a quick stop at Louisville's team hotel on Monday morning to see her boyfriend. Kaycee interjects that when Hancock kept making threes:
"I screamed so loud I almost fainted. I literally lost all my air."
Luke Hancock made an outstanding job, despite what's on his mind at the moment. His father, William Hancock is very ill but he doesn't say much about the nature of the sickness. Hancock says he has been aware of the illness for a long time but that it has become worse recently. His parents made it from Roanoke, Va., to the games this weekend.
 Follow her on Twitter here. Find Kaycee on Facebook here.