Kay'la Hanson
Point guard Damian Lillard was the star with 25 points during Monday night's Game 4, in a convincing victory at Moda Center, the Blazers topped the Spurs 103-92 to avoid a sweep and extend their series to Game 5 in San Antonio. His girlfriend, Kay'La Hanson, must be pretty proud of him.
Born July 5, 1990, in 2012 her boyfriend was Drafted 6th overall by the Portland Trail Blazers. His stunning girlfriend is also keeping very busy, Kay'La is a pre-med student currently enrolled at Weber State University in Utah. The pair met in college; Lillard played his college ball for the Weber State Wildcats before being picked by the Blazers.
Ms. Hanson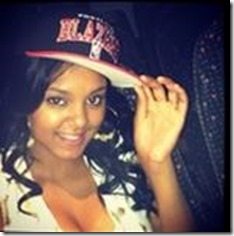 Kay'La Hanson is regular to her Twitter and Instagram accounts showing support for Lillard, often expressing how much she misses him while on the road.
She was born November 8, 1991, and this girl hails all the way from Sin City; she called Las Vegas her hometown and attended Legacy High School in Vegas, graduating in the 2010 class. Her current city is Ogden, Utah.
But just because she has a religious side, it doesn't mean she doesn't know how to have fun! While Lillard is away, the lovely 22-year-old also gets to have some fun with friends and experience the college years.
Hanson seems to be a little over social media, for now, last March she posted on Facebook she was saying goodbye to Twitter. Any guesses why she decided to take a break?
Kay'La and her baller sure make a lovely couple, they are both lucky but when you guy is worth 10-million you kind of feel extra special! According to media, the 2013 NBA Rookie of the Year has a net worth of $10 million. He signed a salary agreement with the Portland Trail Blazers in 2014 for $3.202 million per year for four years; and did you know he was not highly regarded initially by scouts, therefore not heavily recruited out of high school. However, at Webber State, his career in basketball began to take off and look at him now!
In addition to his performance on the court and his milestones, Lillard has reportedly finalized a lucrative new shoe deal with Adidas.
But enough about him, would like to see more pictures of Kay'La? Find her on Facebook here. Find her on Instagram here.