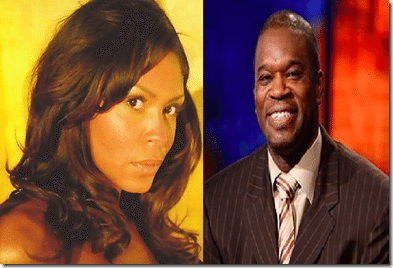 Meet 42-year-old Kendra Meeks, she has been married for the last 19-years to ESPN analyst, former 13 year NBA vet and all star Antonio Davis. The once happy couple has decided to call it quits after almost two decades of marriage and twin children.
Kendra Rae Davis who filed legal docs back in June might be a little upset, she claims Antonio's been blowing through money that belongs to both of them while a divorce is still pending! She says since July, Antonio has pulled  $133,510 from their joint checking account .  She says he also bought himself a house using $563,041 of joint funds! Ouch, whole lotta spending money!
Read: Dan Orlovsky Wife Tiffany Orlovsky
Kendra and Davis are parents to twins, named Antonio Jr. and Kaela.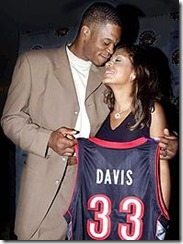 Kendra's soon to be ex, former NBA player Antonio Davis, he played from 1990 – 2006 he played for a variety of teams such as the Indiana Pacers and the New York Knicks. Back in 2006, Antonio was ejected from a Knicks-Bulls game for going into the stands and confronting a fan he alleges was intoxicated and abusive. He said he was concerned about his wife, whom he thought he had seen falling back and being touched by the fan. His wife claims that the fan was using inappropriate language around the Davises' child, and that she had asked him to stop, which then prompted harassment from the fan.
The couple has certainly had their share of drama. The altercation quickly turn into a media spectacle of he said, she said and was eventually settled out of court. Mr. Davis responded by stating
"I'm not apologizing to anybody for anything."
The fan happened to be Michael Axelrod, the son of David Axelrod, the 2008 campaign manager for Barack Obama, has stated that he was attacked by Davis' wife.
So what else do we know about Kendra? She has also had her run in with the cops!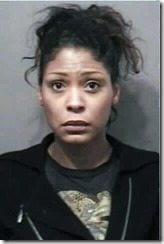 Kendra Davis is shown in a Naperville, Ill. Police Department mug shot, Thursday, Feb. 2, 2006, in Naperville, Ill. Davis, was charged with misdemeanor battery, for allegedly throwing a cup of coffee at a woman during a traffic incident last fall. She was later acquitted of the charges. But that is not all, before she was married ran a stop sign and collided with a mini van, injuring several family members inside, her Illinois driver's license was suspended. Then in 1993, she was ticketed for driving on a suspended license.
She has a brother named Calvin R. Meeks Jr who in 2009 was arrested in their home, he was charged after a domestic incident with a woman he had been dating.
Kendra who is an  interior decorator has also had her part in twitter battles, she had some interesting tweeting exchange with former friend Kim Zolciak, over a decorating work done to the home she was also renting to Kim last year.
Kendra appeared in T.V series The Big Idea with Donny Deutsch.
A tough cookie?
You can find her on twitter here.