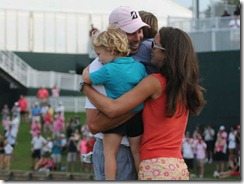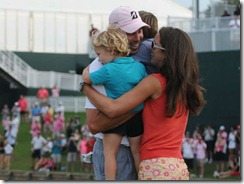 I've heard that this lady is one of the hottest fabwags of Golf. Sybi Kuchar is indeed one beautiful woman, I bet Matt Kutchar is already used to the attention the public gives to her due to this fact.
Sybi Kuchar is  also an incredible tennis player, great mum and of course a hottie!
Sybi Kuchar met her husband in the 90's when both were at Georgia Tech and she was known as Sybi Parker.
She was born in St. Simons Island in Georgia on June 1st, 1977, she also has a brother. When she finished high School and got into College she got onto their tennis team where she became one of the best at Georgia Tech (1996-1999).
After Georgia she moved to San Francisco, but she managed to communicate with Matt. After three years in Frisco by 2002 they were dating again.
Then….the proposal came:
"Candles and rose petals were all over the ground. They formed a trail all over the house, where every few feet there were candles and pictures of Matt and I from babies up to recent pictures of us together. At the end of the trail was a huge bouquet of flowers and a blown uppicture of us standing in front of an old church in Maui. The picture had been made into alight box and you could actually open the door of the church. Behind the door was a ring, lit by the back lights. It was really special." Sybi recalled.
They got married in 2003, for their honeymoon they went to New Zealand, Hawaii and Australia. Four years later they welcomed their son Cameron and some years later Carson came into their lives. The couple has played at the USTA National husband/ Wife Doubles Championships. Sybi is also involved in the PGA Wives Tour where she gets funds for Camp Twin Lakes in their non profit, children who are ill or with other special needs in areas such as recreational, physical and emotional.
So this lady has it all!
See more pics of her here.