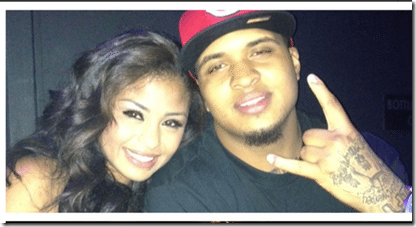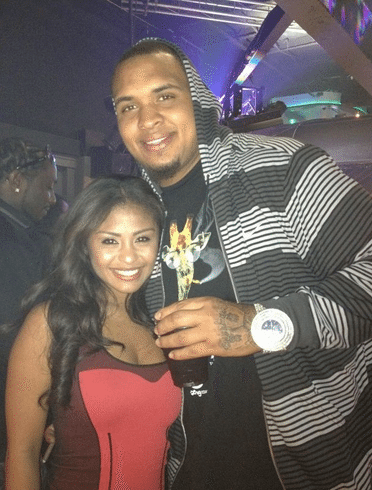 Kristian Fong, is the gorgeous lady of Pro Bowler Mike Pouncey; The couple lives in a 5-bedroom $625,000 home in Davie, modest by NFL standards (Pouncey signed a four-year, $9.26 million contract with the Dolphins in 2011). He has a 5-year-old daughter, Janiyah, with a previous girlfriend from the University of Florida, and a new baby boy named Kayden with Fong.
You can take a look at their baby registry here.
Fong also appeared in Hard Knocks last year, which is the reality sports documentary television series produced by NFL Films and HBO.
Episode 4 of Hard Knocks aired August 29, 2012 and once again the WAGs stole the show. Lauren Tannehill and Jackie Long were doing their thing for some charity, typical WAG work. Then this caught our eye…was Lauren Tannehill checking out the reporters cans?! Can it be? In other WAG news, we saw the debut of Kristian Fong, Mike Pouncey's girlfriend. She's not quite on Tannehill/Long level, but she seems a little sassy.
At the time she pointed out that the Dolphins needed to win because she 'likes to talk s***t.' Love it.
The brunette might be a little small but you know what they say about small packages right! The always smiley looking gal attended University of Florida and Stranahan High School.
She has a great body to go along with her petit frame and looks really gorgeous in pictures.
Kristian's man and father of her new born baby boy started up some drama a few moths ago when he and his twin brother were caught in a picture wearing baseball caps with two words on them: "Free Hernandez." The picture caused such a fuss and was viewed as either simply stupid or downright offensive. The bros poor judgment has caused even more drama now that the Dolphins player has been presented with a subpoena in the Aaron Hernandez case.
But when Mike expressed interest in becoming the face of the franchise, Fong knowing him like she does said:
"That's just Mike," "He's always trying to do bigger and better things, it's never enough for him."
She is definitely a big support for the player, think now they are parents we'll see them walking down the isle soon? Don't miss more pictures of her below!
You can find Kristian on Facebook here or follow her on twitter here.