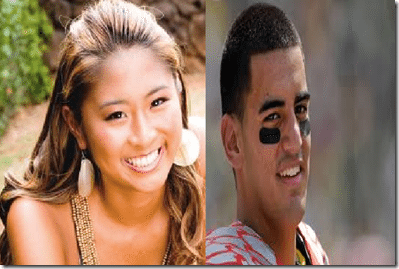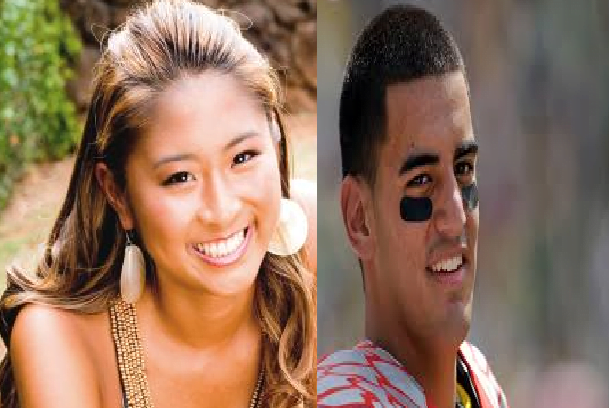 Is it possible to know your soul mate at the early age of 19? Sorry ladies, it seems 19-year-old Samoan QB Marcus Mariota is very much head over heals with his girlfriend, and how could he not! She is gorgeous and has done some modeling. Last year during an interview he revealed she is "the one" saying:
I love her to death. She's here now and I'm happy she's here. She's the one, after the Washington State game, I was pretty sore, and she helped work out the kinks,"
Her name? Miss Nicole Watase, she has been his high school sweetheart Watase, is a recent graduate of Sacred Hearts, just started her freshman year at Oregon last year.
She is the daughter of a former MidWeek employee, Karen Watase who is confident her daughter has also found someone special in the talented player saying,
"Marcus took Nicole to his junior prom, and they've pretty much been together ever since,"
They sure have this this classic, sweet storybook tale going on, get this, Nicole's mother also revealed during Marcus' senior year he was the quarterback and she was cheerleading for Sacred Hearts, which cheers for Saint Louis. See her cheering video below, shaking it!
Nicole played soccer when she was younger and wrestled in high school! She was part of Premier Models and Talent which is Hawaii's elite full service agency, representing the top models and actors statewide. Known for our fast professional service and the best new faces, Premier also offers production, stylists, photographers, and casting facilities.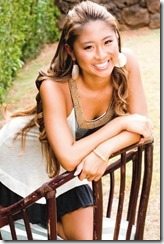 According to her profile she is 5FT 3 IN, brown aye and hair color, waist size 23 in, hips size 34 in and bust 32 in. She has experience doing print and commercial work.
When her boyfriend was asked if her presence in Eugene be a distraction?
"Nothing distracts Marcus. He has focus like you wouldn't believe."
And it appears so, now a year later Nicole might become the girl of a Heisman Trophy winner winner!
Here you can see a drawing she did while she was a six grader at Sacred Hearts Academy.