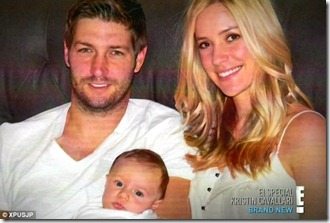 Kristin Cavallari and NFL star Jay Cutler secretly married on Saturday, after applying for a license on June 7. The couple exchanged vows in front of family and friends in an intimate wedding at the Woodmont Christian Church in Nashville, Tennessee, which is ranked number-one on Martha Stewart's 'Wedding Ceremony Locations in the South' list.
26-year-old former The Hills star looked gorgeous in a strapless white gown, with a high belt and bustled skirt, and a bouquet of white flowers. Her new husband, 30-year-old Chicago Bears QB, looked very handsome in a grey suit.
The bridesmaids wore a one-shoulder champagne colored dresses, carrying white and pink flowers.
The day before, Kristin posted a picture of their wedding rings the day before. The bands were a delicate diamond ring for Kristin and manlier black piece for Jay (take a look at them below).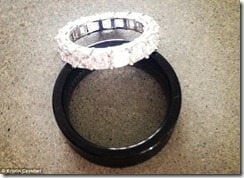 She tweeted that she was now 'officially Kristin Elizabeth Cutler!!!!!'
After the wedding ceremony, Kristin and Jay celebrated with a reception party at Houston Station with around 150 guests. They offered a southern BBQ, with ribs and biscuits.
The newlyweds have a son, Camden, born in August 2012. They got engaged in 2011. In May, Kristin told CoCo Magazine:
"It's easy to get wrapped up in your career and have that be your only focus. I want my marriage to work and last — and family comes first."
Kristin also told UsWeekly:
"I like having that extra sense of security that you're with your buddy for the rest of your life," she explained. "You know they're not going anywhere."
Best wishes for Kristin and Jay!