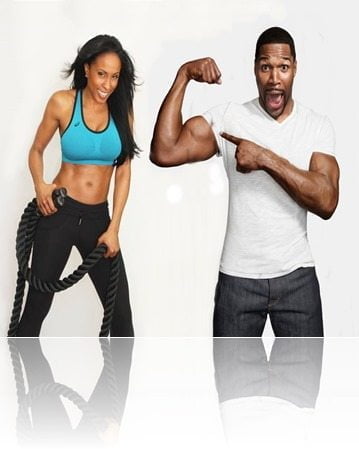 Former NFL player and GMA host Michael Strahan and his longtime girlfriend Nicole Murphy split up this week after seven years together, according to some sources Michael has moved on, as he was spotted in the company of personal trainer Latreal Mitchell.
42-year-old Michael Strahan former NFL defensive end who played for year with the NY Giants, now a television host with Good Morning America and Kelly and Michael, is also the proud father of four gorgeous children, Michael Jr. (b. 1995)and Tanita Strahan (b. 1992) from his first marriage to Wanda Hutchins that lasted until 1996, and twin girls Sophia and Isabella(b. 2004) from his second marriage to Jan Muggli, with whom he stayed married from 1999 to 2006.
In 2007 Strahan started dating Eddie Murphy ex-wife the lovely Nicole Murphy (nee. Mitchell) who is the mother of five (Bria L. Murphy (born November 18, 1989), Myles Mitchell (born November 7, 1992), Shayne Audra (born October 10, 1994), Zola Ivy (born December 24, 1999) and Bella Zahra (born January 29, 2002). They got engaged in 2009.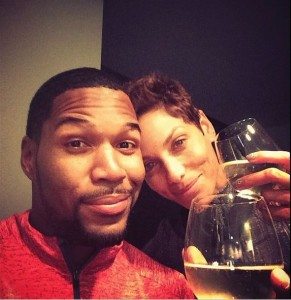 as we all know Nicole announced they called off their engagement last week, the announced was said to have been taken Strahan by surprise, some sources said their work schedules and location was the reason of the split however there are other sources who said Michael's affair with other women was to blame.
Some rumors said that Nicole suspected Michael was cheating on her and started to keep an eye on him and his every move, on one occasion she showed up at the Beverly Wilshire Hotel where allegedly Michael was at with another woman, Murphy began to knocked on the door of the room Strahan was supposedly at and started to scream for up to 20 minutes..
"I know you're in there with some b****,' witnesses reportedly overheard Nicole screaming. 'It's Michael from Kelly And Michael in there," she reportedly yelled.
Nicole was booted from the hotel after guests complained about the rant and called security on her. But was Michael even there? nobody knows, the door never opened and if he was there nobody saw him of his alleged female guest.
So what  is  it about Strahan dating his  trainer Latreal Mitchell? and why is Nicole mad about wasn't she caught with former NBA star Jim Jackson?  They were seen together in Puerto Rico last July, right?
According to TMZ Nicole and Jim Jackson  were in Puerto Rico,
and the whole Strahan/ Mitchell is only a rumor, Nicola and Latreal are good friends just like Latreal is with Strahan. There is nothing romantic going on between then and nothing to be  surprise about, and you should expect to hear more rumors similar to this, media will try  to link Strahan to every single girl he will be seen with, for  a long time.
Still, we will tell you a thing or two about Latreal Mitchell, why? because she is Hoooooot!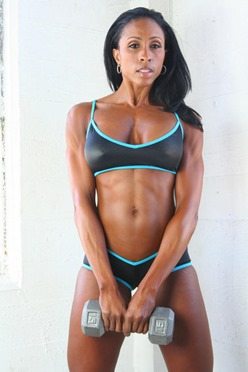 41-year-old Latreal Mitchell from Cali has been training since she was 18, eventually she became workout trainer and taught aerobics, she also worked at Equinox fitness clubs from 2007 until 2011, before that she was an IT Coordinator with the Lehman Brothers.
Latreal is a certified Nutrition coach by Precision Nutrition, AFFA Group exercise Instructor by the Aerobic and Fitness Association, NASM Corrective Exercise Specialist by the National Academy of Sports Medicine and the international Youth Conditioning Association.
Latreal founded the Fitness Bunch Foundation in January, 2003, the non-profit foundation where she also serves as CEO, was created to  fight childhood obesity,  encouraging children to exercise, eat healthy, and find the hero inside them.
You can follow Latreal Mitchell on Twitter here and check her website here.