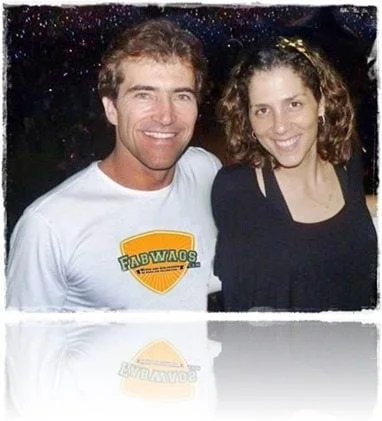 Meet the beautiful Ligia Moura, she is the amazing and loving wife of Carlos Burle the Brazilian daredevil surfer who may have surfed the biggest wave in world and he did it right after saving the life of Maya Gabeira a fellow surfer and protégé. But here at Fabwags we are all about the athletes' wives and girlfriend so… let's meet Carlos' better half, his wife and mother of his gorgeous children. Mrs. Ligia Moura Burle!!
45-year-old Brazilian Surfer Carlo Burle was born Carlo Alberto Burle Filho on November 9, 1967 in Recife , Pernambuco, Brazil. Although beautiful Brazil has many renowned surfers, Carlos has become by far the most renowned of them all.
Burle has won many of the most important  titles in surf,  more than two decades ago in 1990 he became the champion Ruffles Big Waves , Big Wave Brazilian championship – Itacoatiara / RJ four years later he was the champion BIG WAVE CHAMPIONSHIP , Championship sponsored by big waves CLARK FOAM.
Carlo won the Big Wave World Champion in rowing – the Baia de Todos os Santos , Mexico , in 1998 . He is a member of the team in the challenge BRAZIL – USA Fernando de Noronha 98-97 surfed the biggest wave ever photographed at Backdoor Pipeline – Hawaii. He was invited to the WCT – Quicksilver G- 95 land.
Burle was also invited to the SWATCH WAVE TOUR in Flowrider , wave pool mobile – Norway 2000
Guest alternate for Quiksilver Mavericks – California 1999/2000 and to  Eddie Aikau – Hawaii 1999/2000 and was an alternate for the Quiksilver Mavericks 99 / 00 – Ca.
Eleven years ago, Burle won the third place in the WORLD CUP IN TOW – Jaws – Hawaii – 2002
Second in BIG TRIP 2002 and was invited to participate in the Red Bull Reef Seekers , the first championship of Tow -in the world , held in dangerous and icy waters of Tasmania , Australia – 2000.
He was the First Challenge Champion Brazilian Big Waves – Beach Grumari / RJ – August / 2003, finished in the third place in the Red Bull Big Wave Africa – Cape Town / South Africa – June / 2003 and participated in the Expedition Pororoca – Surfing the Amazon ( March / 2003) . The event was attended by Red Bull , and Carlos Burle , surfers Ross Clark Jones , Eraldo Gueiros and Picuruta Salazar , totaling seven days of free surfing on Amazon World Champion Nissan XXL 2002 – Major wave surfed season with 68 feet ( 22 meters ) , and is considered the biggest wave ever recorded of all time until then.
On February 15, 2007  he won the second place in the Bank of Hawaii North Shore Tow -In Surfing Championship , valid for the first stage of the 2007 world tour tow-in APT ( Association of Professional Towsurfers ) , held on the island of Oahu , Hawaii, in June 2006 he became champion Mormaii Pro Tow In , in slab Jaguaruna in SC first Tow In Championship in Brazil in June 2006 .
Champion Red Bull Big Waves Africa 2005 Overall Category Performace; second in Tow Surfer Awards 2003/2004 , Category biggest wave of the season , third place in the Red Bull Big Waves Africa 2003 Cape Town, South Africa.
Carlo is also the Vice Champion Red Bull Big Waves Africa 2008 and Vice champion of the world's first circuit Tow In , in 2006/ 2007. Organized by APT – Association of Professional Tow Surfers. He was invited to the Quiksilver Big Wave Invitational In Memory Of Eddie Aikau season 2007/2008 .
Last  year he became Champion Billabong Pico Alto – First stage circuit BWWT, World champion big wave season 2009/2010 – BWWT ( Big Wave World Tour ), won third place in the Red Nose Tow In Championship International 2008 , Diputado in Maresias beach in Sao Paulo .
That's way too many titles, not to mention very important, but  for Burle the biggest  title is the one of become the husband to Ligia Moura.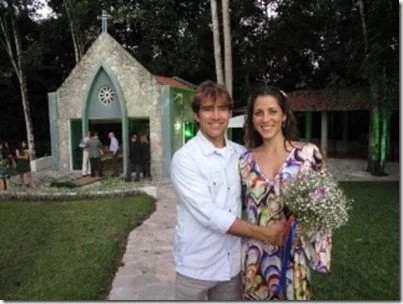 A title he won 4 year ago, when he and Ligia got married on June 26th, 2009 in the city of Recife, state of Pernambuco northeast of Brasil. The couple who were already the proud parents of their gorgeous daughter Iasmin were expecting their second child.
A boy born on December 28, 2009 and who they named Reno Koi Moura Burle, currently and according to this adorable little boy's LinkedIn profile a student at Rainbow School in Waialua, Hawaii.
Ligia Moura aka Ligia Burle originally from Sao Paulo, Brazil is the daughter of Mrs. Regina Kuntz Moura and Mr. Gil Moura, and has one sister Alice. Ligia studied at the Colégio Visconde de Porto Seguro in Morumbi,  Sao Paulo, Brazil, She and her beautiful family reside in Hawaii.
More Photos of Carlo Burle,  his wife Ligia Moura and their children below.
Read: Who is Portugal Fernando Santos' Wife? Guilhermina Santos