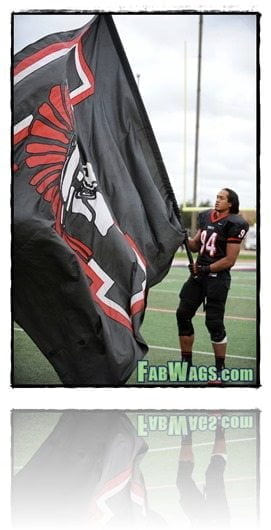 Our hearts are utterly broken , another tragic loss in Texas, this time it was young the 19-year0-old son of Lima Uhatafe, and defensive linebacker at Texas A&M whose life was cut short on July 29th when he, Gaius "Keio" Vaenuku 18, and 13-year-old Andrew "Lolo"  Uhatafe a Euless Junior High student (Polo's stepbrother and Salesi's brother) were killed in a single-car rollover crash on U.S. Highway 550 in Sandoval County in New Mexico on Monday, July 29 at 6:52 p.m. mountain time.
Salesi Uhatafe,  an incoming freshman football player for Utah and his father 51-year-old Salesi Sr. the only survivors were transported to San Juan Regional Hospital after sustaining minor injuries.
According to police reports Polo and Andrew were ejected from the 2002 Toyota Sequoia, according to the school's statement. The vehicle drifted off of the road, the driver overcorrected, and the vehicle rolled several times. The driver believed to be Salesi Sr. was the only one wearing a seat belt, Gaiua Vaenuku was transported to a hospital, but he didn't make it, he was pronounced dead in the ambulance.
This is one of Mr. Manulainiu's last tweets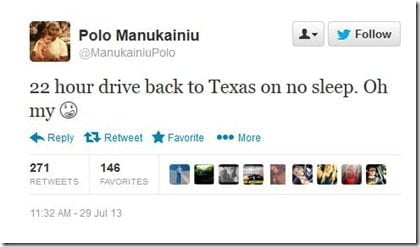 Polo Manulainiu  known for his athletic skills but foremost his kind heart and amazing sense of humors leaves a community devastated tons of his friends shocked and a family searching for answers, what happened?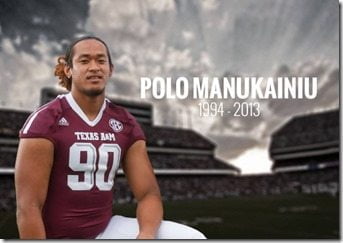 19-year-old Polo Eteaki Manukainiu was born in  Euless, Texas onm Jan. 22, 1994  to Mima Uhatafe, he graduated from  Trinity High School in 2012 and was a recreation, parks, and tourism sciences major at Texas A&M. The 6'5, 275 lbs. defensive line was ranked No. 39 defensive end nationally by Scout.com, No. 5 defensive end in the state of Texas by SuperPrep,  No. 30 defensive end nationally by Rivals.com and the ranked the No. 39 overall player.
Photo Credit: Meredith Tenney &Big P Photography.