Lori Matsuoka
Lori Matsuoka is the second and current wife of NBA star turned broadcaster, Bill Walton. Married since 1990, Lori and her basketball great husband are the parents of four sons, including Luke Walton –currently an NBA head coach.
Lori's husband was born William Theodore Walton III on November 5, 1952. The California native has one older brother, Bruce Walton, who is a former NFL player.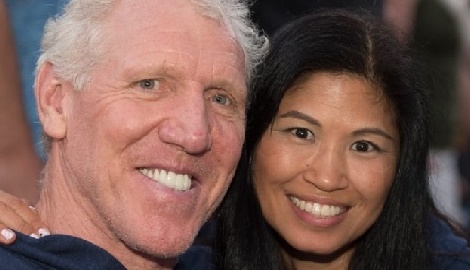 Bill began playing basketball while in elementary school. While at Helix High School, he became the first and only high school player to ever make the USA Senior Men's National Basketball Team and play in the World Championship and/or Olympics.
Walton enrolled at UCLA in 1970. He played center for John Wooden's Varsity team for three seasons (1972-1974), after an undefeated year with the freshman team in 1971. He was a member of two undefeated NCAA championship teams compiling an NCAA record 88 consecutive game winning streak.
Walton became a three-time recipient of the NCAA Player of the Year Award, 1972, '73 and '74.  At UCLA Walton was a scholar-athlete who also earned Academic All-America honors three years in a row. He graduated with honors with a B.A. in history. Walton also attended Stanford University Graduate School of Law in the early 1980's.
he was the number one over all pick in the 1974 NBA Draft by the Portland Trailblazers. He was a member of their championship team in 1977. Nine years later he earned another championship title, this time with the Boston Celtics in 1986. He played with the Trailblazers 1974-1979, the San Diego Clippers 1979-1984, the relocated Los Angeles Clippers in 1985, and The Boston Celtics 1985-1988.
After being named MVP and having won two NBA championships, he started his broadcasting career in 1990 as an analyst for the then Prime Ticket Network. Over the last decades, he's worked for CBS, ABC, ESPN, NBC, CBS, Fox, MSNBC, Turner Sports, KCAL, NESN, and the NBA.
In 1993, Walton was inducted into the Basketball Hall of Fame in Springfield, Massachusetts. Walton also became a member of the Academic All America Hall of Fame during the spring of 1994. For his television broadcasting work, Walton has been nominated for numerous Emmy and won two of them.
Walton is currently the Executive Chairman of Connect SD Sport Innovators (SDSI), a non-profit.
Walton hasn't only been successful in his career, he's also been happily married to wife, Lori for the last 27-years. Walton was previously married for ten years to first wife, Susan Guth. Between 1979 and 1989, the couple welcomed four sons: Adam, Nathan, Luke and Chris.
Luke Walton is the couple's third son, he followed into his father's footsteps by becoming an NBA player and the current head coach of the Los Angeles Lakers.
Lori Matsuoka and Bill Walton tied the knot in 1990. She became the step-mom to Adam, Nathan, Luke and Chris.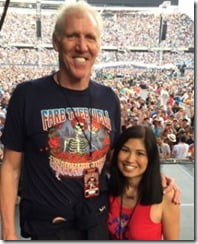 Lori went to UCLA, majoring in sociology and business. She graduated in 1986 and worked in sales and marketing for Black & Decker, Allergan pharmaceuticals and Ray-Ban. She is of Japanese, Chinese, and Hawaiian heritage. Most recently Lori Matsuoka is an Inspirational Lifestyle Blogger for BdaKiNE.com
She has a special interest in animals, food, music, philanthropy and travel.
According to the sandiegotribune, Lori Matsuoka serves on nine nonprofit boards, sits on six nonprofit committees and has chaired more than 17 fundraising events for groups serving the arts, children, animals and the military. Both Lori and her hubby are huge on Philanthropy.
Aside form being a supportive wife and loving mother, Lori Matsuoka is also the grandmother of Olivia, Avery Rose and Chase.
You can find Lori Matsuoka on Twitter here.