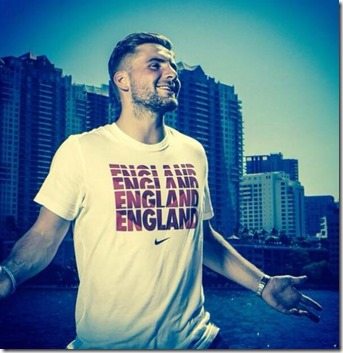 How is it possible that hunky, talented 18-year-old Southampton defender –and England national team –Luke Shaw does not have a girlfriend?
Shaw is a product of the famous Southampton youth academy and he quickly made a good impression on the Premier League following his introduction in 2012.
We have some theories, including the handsome player could actually be gay. Yes ladies, sorry to disappoint you'll but the rumor is that Luke's sexual orientation plays for the same team. There is nothing confirmed yet but earlier this year English newspapers were lining up an exclusive story which will help a player reveal his sexuality, many thought it could be Luke but the , Southampton's left back tweeted
It's not me chill out guys !"
Weird thing is, he also deleted the tweet. Shaw who will soon be 19 on July 12, comes across as the sensitive type, tweeting the nicest things about meeting male fans, posting pictures with many cute dudes, wearing rainbow colored undies, you know the type of thing that makes you wonder. But until he says otherwise the guy could possibly be dating some hot chick from his neighborhood, some childhood sweetheart who is extremely shy and doesn't like to show her face to the cameras, right!
Single or not, girlfriend or boyfriend, Luke who as a child supported Chelsea, could possibly become the most expensive teenager ever as reports of Manchester United making a staggering £34m bid to bring Luke Shaw to Old Trafford have surfaced. Luke has been a regular with England since he was 15 after making his Three Lions debut for the U-16s in 2011.
The Surrey native made his international debut this past March and today Shaw is set to make his competitive debut for England, starting in place of the injured Leighton Baines against Costa Rica.
Think he will strike that £34m deal? Right now, any boy or girl would be happy to be next to Luke.
You can find him on Twitter here and on Instagram here.