Let's meet his wife Mrs. Lupe Marinez Izzo also known as the First Lady Of Michigan. Lupe Izzo is the gorgeous wife of college basketball coach Tom Izzo, head coach for the Michigan State Spartans.
Tom Izzo for his successful career as the Michigan State Spartans head coach setting the Big Ten record for the longest home winning streak! also not so famous for his temper.
Tom Izzo's wife Lupe Izzo, born Lupe Marinez is originally from Texas but grew up in East Lansing, Michigan. It was also in East Lansing that the former Lupe Marinez met her future husband. In fact, for their first date, Tom invited Lupe to a Michigan State game, how original!
She probably could have imagined what she was getting into!
Tom and Lupe were married in May of 1992 at St. Thomas Aquinas Parish in East Lansing but wait because there is a lot more to it! Just love wedding proposals! Tom actually got his brave helmet if you know what I mean; when he decided to ask Lupe to be his wife right in front of both their families during Christmas time!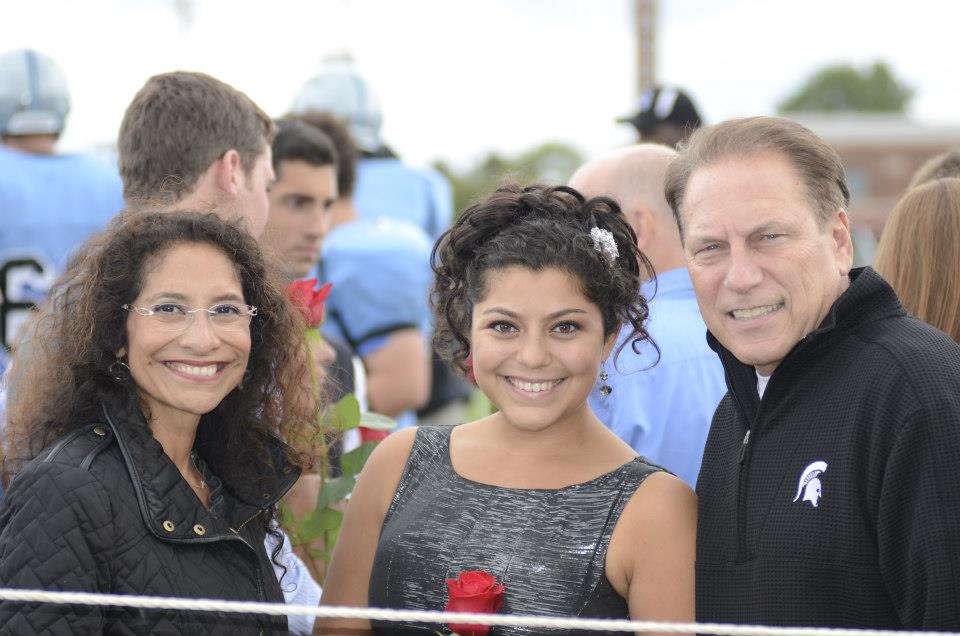 Pin
I guess Christmases must be even more of a magical time for them huh! Two years after their wedding, Lupe gave birth to their first born, a daughter, Raquel.
Under Izzo, the Michigan State program has been one of the most successful in the country his secret?? Might just be good ole hard work and focus…get this Just hours after the victory at The Palace, Izzo was at the Target Center in Minneapolis watching guard Tyus Jones, the point guard from Apple Valley, Minn. He is among the top-ranked players in the 2014 class!
Steven
But I guess when you are successful at what you love you also are successful in your personal life; a few years later, after the couple had Raquel the couple adopted son Steven, who is six years younger than his sister. Lupe's family isn't limited to their two children however – like many wives of college coaches, she is involved in the lives of Tom"s players and also Tom's longtime friend Steven Mariucci; they have been there for each other throughout everything. Even Lupe had to pass muster with Mariucci back when she and Tom first met.
When Izzo married her in 1992, with Mariucci, of course, was the best man. They are godfathers to each other's children and consult each other on investments, media relations, aging parents. When Mariucci interviewed for the Lions' job in early 2003, Izzo drove the 75 miles from East Lansing to Detroit that night, arriving at midnight, and the two friends talked until 4 a.m. In 1999, when Izzo was en route to his first Final Four, Mariucci sat in the stands with Lupe, holding her hand; it wasn't clear who was more nervous!
Certainly, Lupe 59, has been a great support and fan of her husband. She is known for her grace, candor, and ebullient spirit and whenever she is approached about any of the basketball players she calls them her Michigan State hoops family..and the best place to find her?? Yup, you guessed right! In the crowds!
You can see her Facebook page here.