Maria Pombo
Meet gorgeous Spanish model Maria Pombo, the lovely girlfriend of striker, Alvaro Morata. Maria's hot boyfriend is apparently making the move from Juventus F.C. to Liverpool according to latest reports!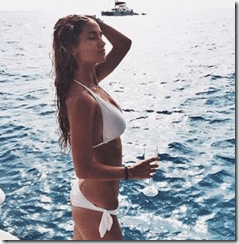 The Spanish soccer player joined the Serie A giants from Real Madrid just last summer, but has struggled to find regular game time in Turin, now reports say Morata could become the marquee signing for the Reds this summer.
His lovely girl, Maria Pombo is super active on Twitter and Instagram accounts.
Mostly, she publishes photos with family and friends, from travels, clubs and school. According to other articles she studied abroad for a year, more exactly in Michigan but she's back in Madrid.
Ever since her boyfriend has been living in Italy the couple has been traveling back and forth every chance they get. And it appears they have made it work through the distance.
Maria's work commitments are in Spain, she's under contract with several brands in Spain.
You can find Maria Pombo on Twitter here.