Meagan  Kerian
Meet Meagan Kerian aka Meagan J Kerian; is the mysterious yet extremely beautiful ex-girlfriend of Canadian NHL player Cedric Paquette.
Meagan who is also Canadian is considering moving to the US so she can be closer to Paquette, however, they are no longer dating, that OK though because she is allegedly dating another American athlete!!
Around the time Meagan was linked to Paquette, we told you that there was little information about his personal life, what we  knew what was what a kind reader tipped us that Paquette is currently dating Meagan Kerian, then 22; this mysterious NHL wag is from Vancouver, she used to have her Instagram open to the public, but soon everyone became aware of her existence and who was she dating, leaving poor  Meagan with no choice but to make it private.


Maybe some of you noticed Paquette might be on Tinder,  if that is really him, it certainly doesn't look good at all; someone who found out and told Meagan about it.

According to sources Meagan Kerian was in Tampa for the SCF, searching for info on Meagan we found that she likes yoga, and is very active on Tumbler, we kind of like her photos and quotes, no worries in just a few we will tell you more about her.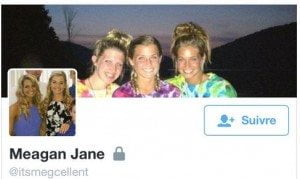 Ms. Kerian met her then-boyfriend during the time when she and her family lived in Gaspe for over 10 years after that Kerian moved to Vancouver.
Meagan Jane Elizabeth Kerian born January 31, 1993, in British Columbia. She graduated with a bachelor of fine art from the University of British Columbia in 2015. Meagan who currently resides in Tampa works as ballet teacher at America's Ballet School; before that she worked at Harbour Dance Center.
So Meagan is no longer dating Cedric, he has moved and s apparently so has she.
According to some sources, Meagan is currently dating MLB player Ryan Goins, who previously dated Emily LaJudice.
"Y'all she's dating Ryan Goins of the Kansas City Royals. She was at a game in Cleveland and was with him after the game. I saw that she's in Dallas for the Rangers game and had posted some stuff with him on her Instagram. I know people were giving her some for posting couples pics on her VSCO. She deleted her Tumblr and VSCO accounts because of it. Yikes!"