Meet Sarah Connley Allen; the pretty wife of NFL player Brandon Allen, one of the quarterbacks with the Cincinnati Bengals who previously played for the Los Angeles Rams, Jacksonville Jaguars, and the Denver Broncos, prior to signing with the Bengals on August 1, 2020.
Sarah's husband was born and raised in Fayetteville, Arkansas. He is one of the children born to Marcela and Bobby Allen, his dad is the Razorbacks' director of high school NFL relations.
Brandon's younger brother Austin, played college football with the Razorbacks at the University of Arkansas, before signing a deal as an undrafted free agent with the Tampa Bay Buccaneers in 2018.
Unfortunately for Austin, the Buccaneers wained him a couple of months later and he got himself a deal with the Memphis Express of the Alliance of American Football in 2019. He is currently playing with the Salk Lake Stallions.
And back to Brandon, who played with the Razorback at the same time his younger bro did. The Jacksonville Jaguars drafted him in the sixth round (201st overall) in 2016.
The Jaguars waived him in September 2017, and the Los Angeles Rams claimed him off waivers a day later.
He left the Rams two years later and joined the Denver Broncos and subsequently signed with the Cincinnati Bengals on August 1, 2020. He will replace
Joe Burrow
during Week 12, against the New York Giants.
Who is Brandon Allen's Wife?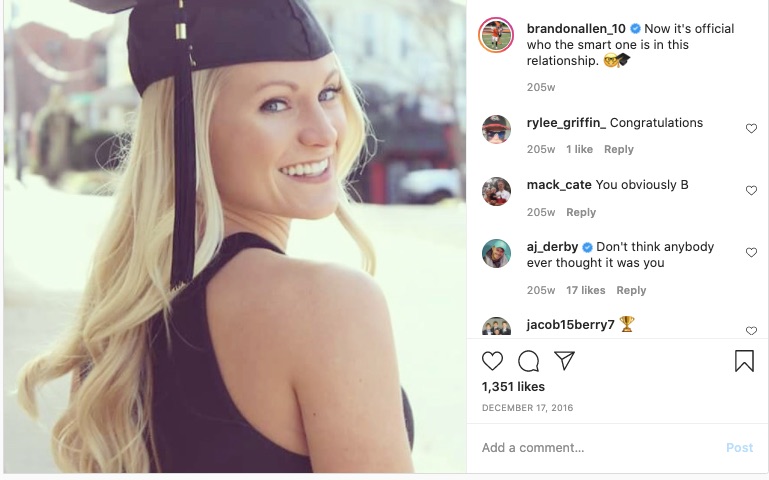 Pretty Mrs. Allen was born Sarah Ann Connley on July 6, 1995, in Apopka, Florida. She is the daughter of Erin Holland Hundley and John Connley.
Sarah has one sister named Lizzy, now Lizzy Coffelt.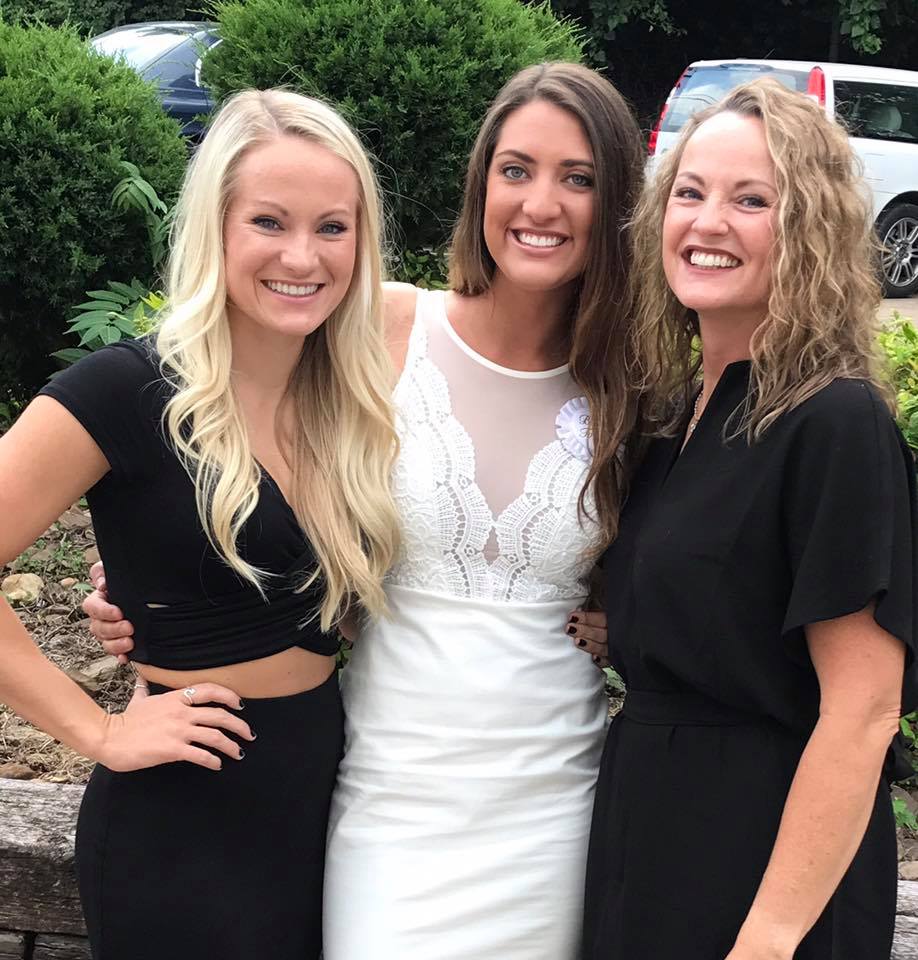 Sarah Connley Allen graduated in 2016, with a Bachelor's degree in journalism, public relations. advertising and applied communication from the University of Arkansas.
She did internships at Market Acess and Mockingbird Creative in 2014 and 2017, respectively. After that, she was was a retail inventory manager at lululemon, in Thousand Oaks, California.
Later on, was a real estate agent with Keller Williams Realty in Bentonville, Arkansas, and subsequently with MooonCo Real Estate.
Sarah and Brandon were neighbors but didn't know about that until the day they met at a Cody Johnson Concert while they both were in college, mutual friends introduced and the connection was amazing.
"We met in college at a Cody Johnson concert and found out we were neighbors. He used to invite me over to walk my dog and take him to the dog park."

"We both are huge animal lovers and obsessed with dogs so we had a great connection. Our first date was breakfast at Briar Rose and breakfast is my favorite type of food! We currently live in southern California and Brandon plays for the Los Angeles Rams. We have two dogs now: Teddy and Bogey."
They dated for a couple of years before Brandon finally proposed in June 2018. Brandon once said one of the many things he loves about Sarah is that he can be himself around her.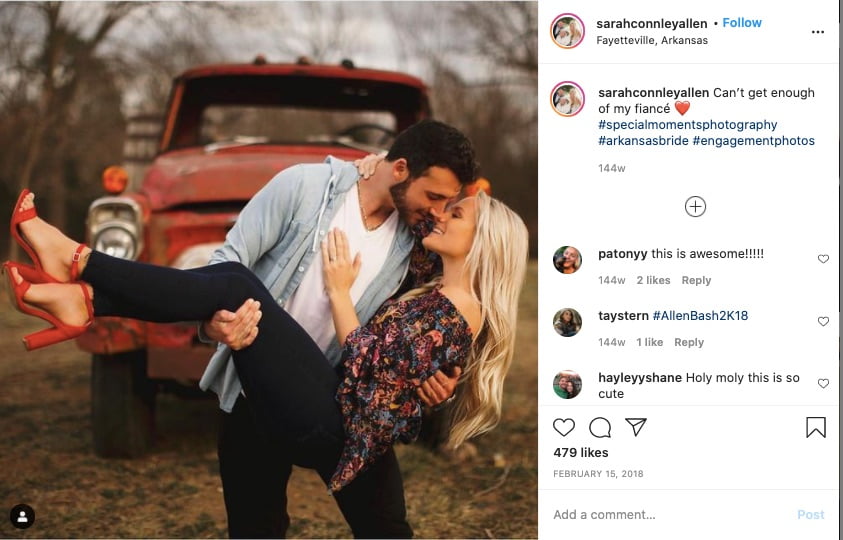 "My favorite thing about Sarah is that I can always be myself around her," Brandon says. "She is the only person I have ever wanted to hang out with every single day. We have fun doing nothing together and she will never say no to re-watching my favorite movies for the 100th time."
They decided they wanted to tied the knot in the city where everything started; they chose Sassafras Springs Vineyard & Winery to exchanged their vows on March 2, 2019.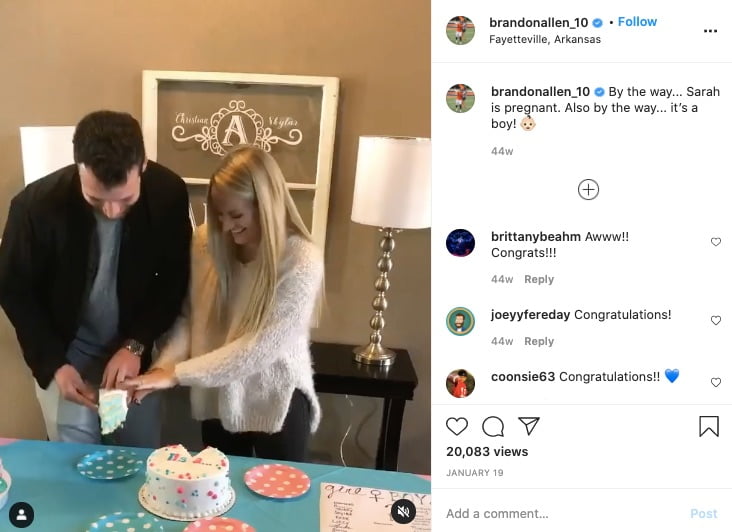 Sarah and Brandon not only revealed she was pregnant but also they were having a baby boy in January 2020.
Their adorable son Oakland Duc Allen was born  July 14, 2020, at Willow Creek Women's Hospital; he weighed 7lbs. 5 oz. and measured 21 inches.