Jaime Taylor
Meet Jaime Taylor is the pretty girlfriend of NFL player Lamar Jackson; the starting quarterback for the Baltimore Ravens, 2016 Heisman Trophy, Maxwell and Walter Camp Award winner and former player at the University of Louisville.
Lamar made his NFL debut on September 9, 2018, against the Buffalo Bills after Joe Flacco was injured against the Pittsburgh Steelers.
Previously we met, Lamar's number one girl, his momma Mrs. Felicia Jones; it turns out, Lamar has a girlfriend, although they have been quite sneaky!
No, Lamar Jackson is not married, at least not yet. He is no player, the boy keeps his head in the game and is not dating one girl after another. His mother Felicia Jones, raised him well, as though him he needed to have a steady income in order to get married and support his family.
However, this statement might be refuted by some girl, who claimed he reached her thru social media. Continue reading to find out about that.
Is Lamar Jackson single?
No, Lamar Jackson is not single, he is dating the lovely Ms. Jaime Taylor. They started dating in 2017, around the time he was still playing at the University of Louisville; with that in mind, it is likely Jaime Taylor also attended the University of Louisville,  or perhaps another university in the city.
Who is Lamar Jackson Longtime Girlfriend?
As noted before, Lamar Jackson's longtime girlfriend is Jaime Taylor.
You should probably know by now that  Lamar likes to keep his girl Jaime Taylor away from the public eye, there is no sign of her on his social media, and no photos out there of them whatsoever.
The girl with Lamar in the photo below, may or may not be his GF Jaime Taylor.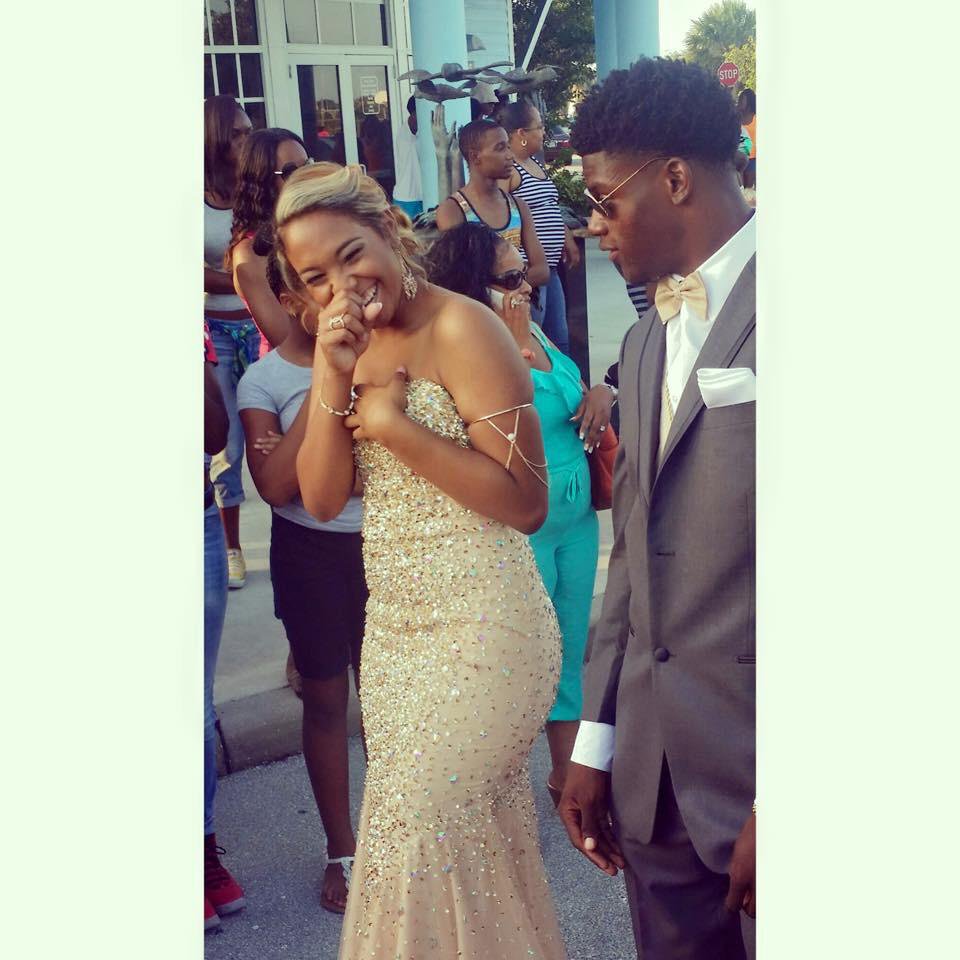 But is not only him that likes to protect her privacy, Jaime prefers it that way too, I mean her boyfriend is big and one of the best players in the NFL, can you imagine if people knew who she was, they would leave the girl alone.
The attention a Wag gets might come in handy if that girl is a model, or influences and wants to get noticed, but clearly, Jaime is none of that and prefers to go unnoticed.
Who is Lamar Jackson GF Jaime Taylor?
We found out about her existence throughout an article about Lamar on the Baltimore Ravens website.
They referred to Jaime Taylor as Lamar's girlfriend of two years; in the article, Jaime spoke about how Lamar handle criticism and how he has taught her to do the same.
"He's taught me how to handle criticism," Jaime Taylor said. "I mean, I used to get mad when I'd read stuff. Then I'd look at him, and he's just fine. He says, 'Let them do the talking. You don't have to say anything. Just show them."
Jaime apparently a huge Harry Potter fan, talked Lamar into dressing up as Harry for Halloween; he wasn't so sure since he is not a fan, but he sure is Jaime's die-hard fan.
Harry Potter. I was Harry," Jackson explained to reporters when asked about his costume. "I thought it was pretty cool. My girl she wanted [to do a Harry Potter theme]."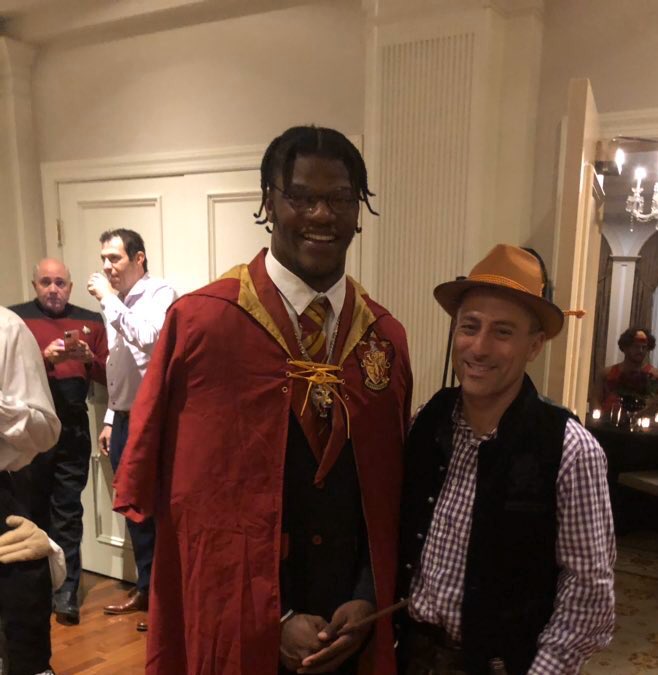 "Had the little coat on, I felt like I was back at the wizard's place. It was pretty dope…I wouldn't say I am [a fan of Harry Potter]. Watched a few movies but it's pretty long. I get sleepy. I'll be watching it for like a good hour then [I fall asleep]. Then Harry Potter start watching me."
Not long ago, by mere casualty (standing in line for the bathroom), we had the chance to talk to a Ravens fan who said she might have seen Lamar Jackson's girlfriend Jaime Taylor sitting with his mom, Felicia.
"I was at Ravens' game a couple of months ago, and saw a glimpse of his momma Felicia sitting next to a young lady, they hugged each other when the Ravens scored a TD, so I think that girl was Lamar Jackson's girlfriend Jaime Taylor.

"Sadly I never got to see her face but she sure has pretty hair," the source told us.
Is Lamar Jackson still dating Jamie Taylor?
That is a thought one because they have been coy about their relationship, they probably could be interested in keeping a possible between out of the media.
This question comes after some girl said Lamar allegedly talked to her on social media
"You look good women," he allegedly began the conversation, before straightforwardly uttering his intention, "I'm tryna meet u."
Sadly the screenshot is gone. Bummer!!!!
Another girl also said Lamar not only reached her on Snapchat, but invited her to see him.
"it was random." She shared, "He just started following me randomly but I flew to see him. Cz my dad died. I was grieving and bored."
Lamar has not responded to these girls' claims when reaching for comment, but many locals were not surprised that Lamar had been hooking up with some girls,  in spite of having a girlfriend.
"He's from Broward/Pompano. That's what they do, when will women realize that exploiting themselves for these rich dudes doesn't always end in a check or a baby, Next!"

"LmAooo I live in Baltimore so this is true." Another said of the woman about the girl who flew to see him, even though she knew he had a GF, "Ok but you went tho."
Lamar Jackson's current contract with the Baltimore Ravens is for $9.5 million which included $4.97 million signing bonus, $7.58 million guaranteed, and an average annual salary of $2.38 million, according to Spotrac.
He initially signed a four-year contract, $9million with a $4.97 million signing bonus on June 5, 2018.
Jackson will be eligible for free agency in 2013, if he continues to play the way he is right now, you can expect Lamar Jackson's salary to get higher numbers.
Lamar Jackson's net worth is estimated at $4 million.
As far as we know Lamar does not live with his mother Felicia; he lives in his Owings Mills home in Baltimore. The 7.995 sqft custom all brick home purchased on July 7, 2018,  by the Florida-based LLC owned by his mom, Felicia who continues to act as his manager.

According to records, Felicia lives in Boyton Beach, Florida, but I can imagine she visits Lamar as much as she cans, probably stay with him for long periods of time, although Felicia continues to keep her eye on her other children that include Lamar's brother Jamar Jackson.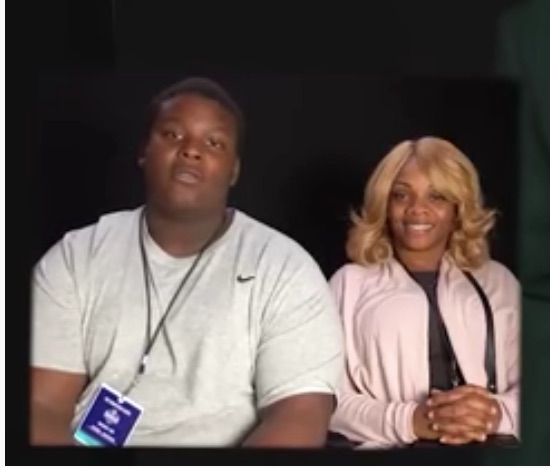 Lamar Jackson Sunglasses?
Ok, Lamar looks fab with his glasses and we are quite interested in the pair of shades he wore while relaxing on the bench.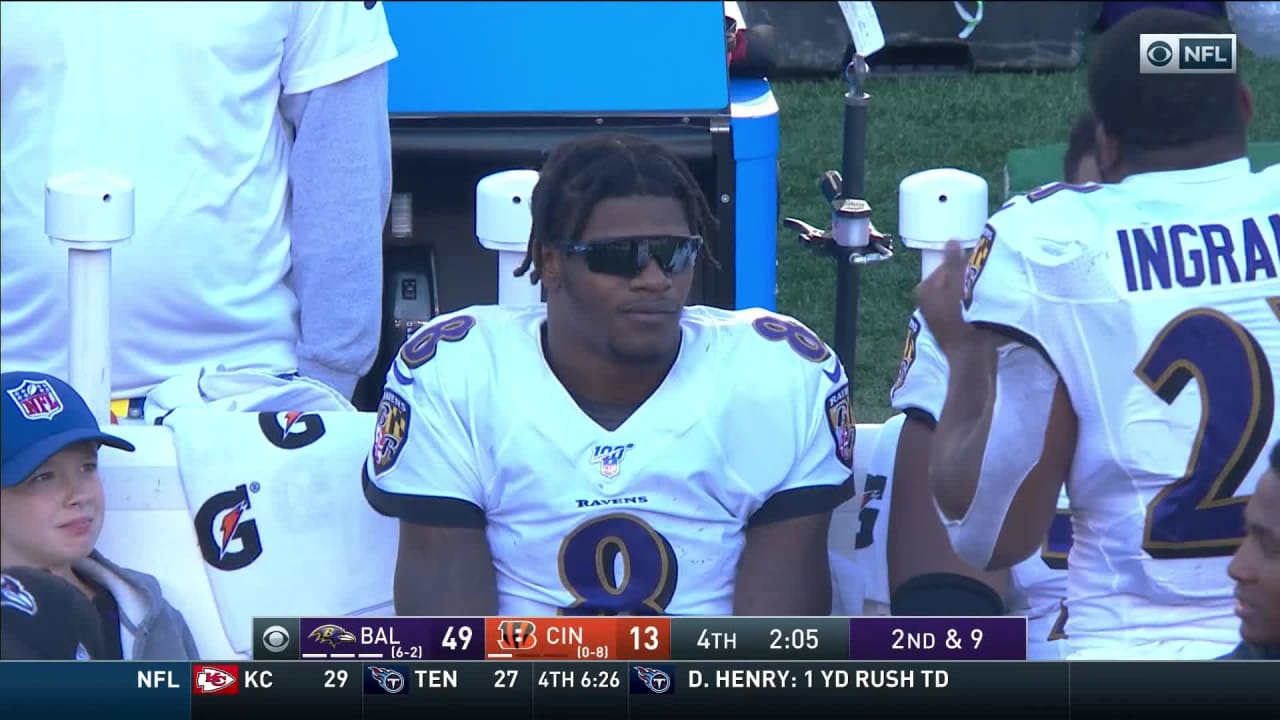 Lamar Jackson's glasses wore Oakley visor lens, that the company says they designed to enhance color and contrast in the football environment. So it was no surprise Oakley and Lamar started a partnership this year.
"Oakley has been a part of my journey since my youth football days — giving me vision, confidence, and swagger," Jackson said in the release. "Can't do much better than that — excited for what is next, the sky is the limit."
Other athletes that have a partnership with Oakley include safety Derwin James Jr, wide receiver Juju Smith-Schuster, and SuperBowl champion Patrick Mahomes.
Lamar Jackson Jersey and other Merch
You can purchase Lamar Jackson's official jersey at the NFLshop here.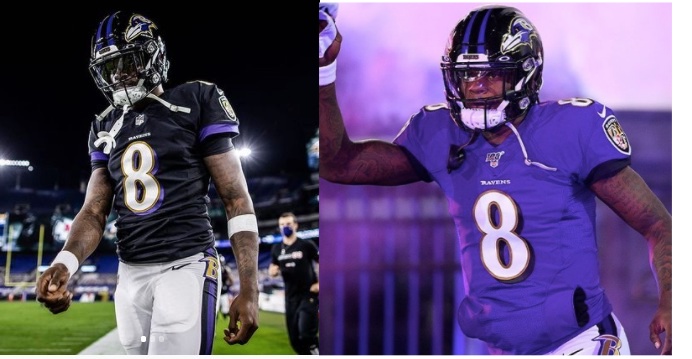 In addition to Lamar Jackson's jerseys, you can get your hands on his merch, from his Era8 apparel, which he founded in 2018.
Lamar's merch features collection such as the Action Jackson, Pressure, MVP, and certainly the Wild Dog collection, which can be found in most of its designs; the African wild dog is a species that not only fascinates Lamar but also is one of the most engaged animals on the planet.
The "Wild Dog Collection" was created as a way to shine a light on these beautiful creatures and their plight. This is why a percentage of sales from the collection is donated to help support foundations with scouts that monitor and protect the species. Join us in this mission!
Can you find Lamar Jackson's Jersey and other apparel on Amazon?
Lamar Jackson sued Amazon in March 2020. The young QB filed a federal lawsuit against Jef Bezos' giant company for engaging in the "deliberate and unauthorized use" of Jackson's name, image, and persona.
Lamar Jackson Instagram & other Social Media
Lamar is pretty active on social media, mostly he is posting on Instagram daily, you can find him here.
In addition to Instagram Lamar is on Twitter and Facebook.
Lamar Jackson Highlights
He is just 23 and has accomplished so much. He finished his rookie season with the Ravens with  1,201 passing yards, six passing touchdowns, and three interceptions.
Finished the 2019 season with 3.127 passing yards, 36 passing touchdowns, and 6 interceptions.
Check out Lamar Jackson's Career timeline.

What Is Lamar Jackson Spin Move?
Lamar Jackson's spin move that others refer to as Lamar Jackson's Batman Spin-Move, came to all its glory when the Ravens scored their 47-year touchdown against the Cincinnati Bengals during Week 10 when the Raven defeated the Bengals 49-13.
Jackson had been practicing his spin move at slow speed during practice the day before the game, but he wasn't sure he would be able to pull it off in the game against the Ravens or any other.
Luckily he pulled it off and the reaction was epic!!
I don't see anybody that could sit there and say they anticipated that run," coach John Harbaugh said. "I said to the offensive coaches on the phones, they'll be watching that run for decades and decades. That's one that everyone in the country is going to see by tomorrow afternoon. That was something. That's rare; that was special."

"That was the craziest thing I've witnessed on the field with somebody. … I was trying to go get a block for him. I'm like, ', the safety is about to get him and hit him.' I'm like, 'Get down, the next person is about to hit you.' He spun and then took off. I was like, 'Let me just him. Let me him to the end zone and make sure nobody else gets him.' That's Lamar right there. He's special. You can't do nothing about that right there." Said, Mark Ingram.

"It was multiple people that fell for the spin move. … I don't think nobody saw it coming. I was ready for him to go down, but I guess you got to expect those types of things out of Lamar. He surprises you every game. Every game, he has a play where [you're] like, 'Oh, my God.' … And that was that moment right there." Gus Edwards added.

"It was just amazing. You can't just take that stuff for granted, man. It was off the RPO. He shook somebody and then he spun and it broke. It's just Lamar Jackson, bro. That's just who he is." Commented Earl Thomas.
You can expect to see Lamar Jackson's spin move more often.
His skills on the field are insane! but he has the built to accomplish whatever he proposes to do, perhaps you are wondering about Lamar Jackson's measures? Lamar's height is 6'2″ (1.88 m), weight of 212 lb (96 kg), hand size 9 1/2 inches (0.24 m), and arm length of 33 1/8 inches (0.84 m).
Related Story: Find out Who is Joe Flacco's wife Dana Grady Flacco aka Dana Flacco.
Flacco was the QB for the Baltimore Ravens from 2008 to 2018; he joined the Denver Broncos on February 13, 2019, and subsequently the New York Jets on May 27, 2020.
Lamar replaced Flacco when he injured his hip during Week 9 when the Ravens were defeated by the  Pittsburgh Steelers.